Cité Mémoire – Projections of Montreal's History
Montreal was founded in 1642, which means that in 2017, the city is celebrating its 375th birthday. That's a long stretch of history, and people can't be expected to remember everything that's happened. To help jog our memories, Montreal has created a multimedia exhibition called Cité Memoire (Memory City), transforming the old town into a living tribute to the past.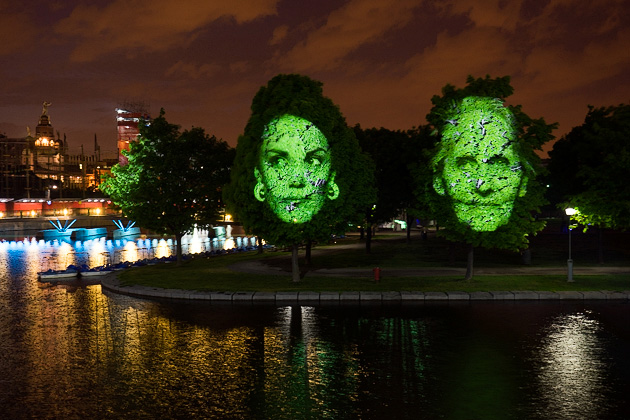 Eighteen spots around Old Montreal have been selected for Cité Mémoire. At each one, there's a projection, or "tableaux," which brings a significant moment from Montreal's history to life. In order to understand each clip, you have to download a free app that allows you to listen to the audio. And the projections don't just play on a loop. Using the app, you're the one who starts them.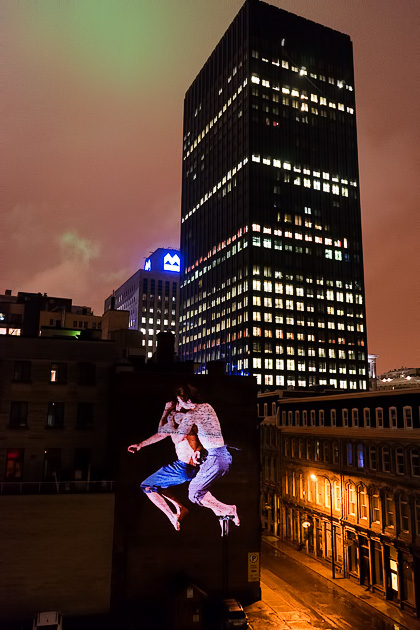 If it were just short movies projected against the sides of buildings, Cité Mémoire would be cool, but not all that memorable. However, each of the eighteen tableaux has been produced with the utmost artistry. They're the work of some of Quebec's most renowned multidisciplinary artists. The projections are poetic, haunting and beautiful, and each one makes perfect use of its individual location.
For example, the tableaux about the 1849 burning of the Parliament is found at the old firehouse in the Place d'Youville. The projection uses a walled-up window on the building to create the illusion of a concerned couple peering outside. You watch along with them as protesters gather in front of the building across the street, which has been illuminated to resemble the Parliament. As it burns, the effect is stunning.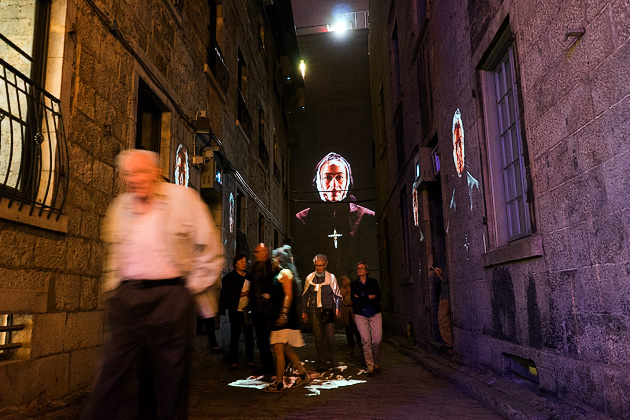 "Foundlings Quay," located in a narrow alley off the Rue Saint Paul, is an artful tribute to the Grey Nuns who cared for so many of Montreal's orphans. A series of babies in swaddling appear on the ground, while the nuns step out of the shadows on the side of the alley and against the far wall. Perhaps the most photographed tableaux is the "Face of Montreal": a series of faces reciting poems, displayed across the trees at the old port.
The coolest facet of this project is the level of interaction required by the viewer. You could just show up and watch the pictures, but to get much out of Cité Mémoire, you must become a participant by downloading the app and wearing headphones. And when you're the one to press "play" and set one of these tremendous projections into motion, you feel somehow more invested in it.
Cité Mémoire runs every evening after dusk, and for the next few years will be a permanent fixture in the Old Town. It's rare that such a cool idea meets with such perfect execution.
Cité Mémoire – Website