Mont Royal's Twin Cemeteries
Mont Royal is a lot larger than we expected. Sure, we figured that the hill which provides the city its name would be big, but we didn't know this hill would be roughly the same size as the city itself. So it came as a shock to learn that the northern side of Mont Royal is nothing but cemeteries… half the mountain, dedicated to the dead.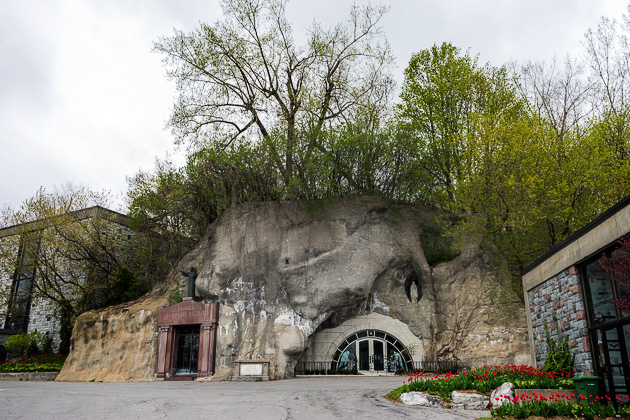 We spent a gray Sunday morning walking around the Notre-Dame-des-Neiges and the Cimetière Mont-Royal. Well over a million souls have been laid to rest in the two cemeteries, and with the seemingly endless network of trails, there's no way you could hope to see all the gravestones. Unless you're weirdly obsessed with gravestones.
We started in the Roman Catholic cemetery of Notre-Dame-des-Neiges, which is by far the larger of the two. In fact, this is the largest cemetery in Canada and third-largest in North America. With tens of thousands of tombstones and nine mausoleums, the Notre-Dames covers an area of over 343 acres and has over 55 kilometers of paved road. It was founded in 1854 in response the city's booming population, and has remained a mostly Catholic place of rest, although today it will accept anyone of Christian faith.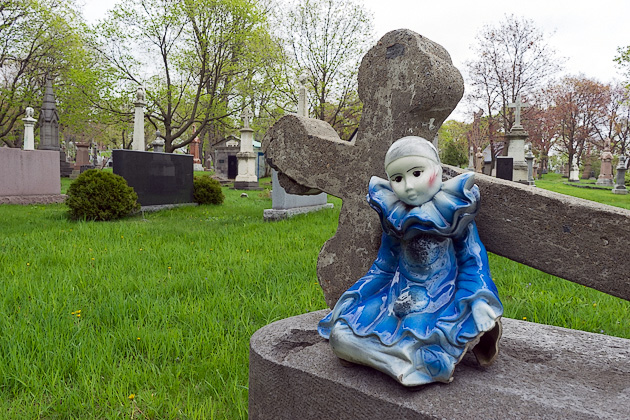 Sticking to the main route, we walked past some gorgeous and ostentatious monuments, often adorned with crosses or weeping angels. We saw fields of gravestones dedicated to the heroes of the Crimean War and World War I, and went inside the stunning Pietà Mausoleum, which seems to be mostly occupied by Italian families.
Walking around such opulent tributes to past lives, I realized that I don't have a plan for when I die. So, should whoever's in charge of arranging my funeral be reading this, here's what I want: a marble gravestone featuring a statue of me, which should be slightly larger-than-life and shirtless; feel free to exaggerate the musculature of my physique. I should be consoling a weeping angel, or feeding an orphan or something. Make me look good, you get the idea. (If there's not enough cash to pay for all this, you can burn me and bury my ashes in a shoebox. I guess it's all the same.)
Our tour through the the Mont Royal Cemetery was somewhat shorter, but just as impressive as the Notre-Dame-des-Neiges. This cemetery dates from 1850, a few years earlier than its larger neighbor, and has around 200,000 interments. It started as a Protestant place of rest, although it's now non-denominational. We saw English names, as well as German, Chinese and Greek, among many others.
The most impressive monument we saw here was the crypt of John Molson and his family. The founder of the Molson Brewery, he was one of Montreal's most important entrepreneurs, and also active in politics and banking.
A visit to the two cemeteries of Mont Royal is the perfect "chilly weekend" type of activity. Walking around all this death, reading all the forgotten names, and reflecting on the fleeting nature of our lives, seems like something best appreciated when the wind is cold and the sky is gloomy.
Locations on our Maps: Notre-Dame-des-Neiges Cemetery | Mount Royal Cemetery
–Please Subscribe To Our Youtube Channel Here