The Biodôme at the Olympic Park
Not to be confused with the Biosphere on the Île Sainte-Hélène, the Biodôme is a small zoo housed in the former Olympic velodrome. The zoo is organized into five distinctive ecosystems found in North America, introducing some of the plant and animal life found in each.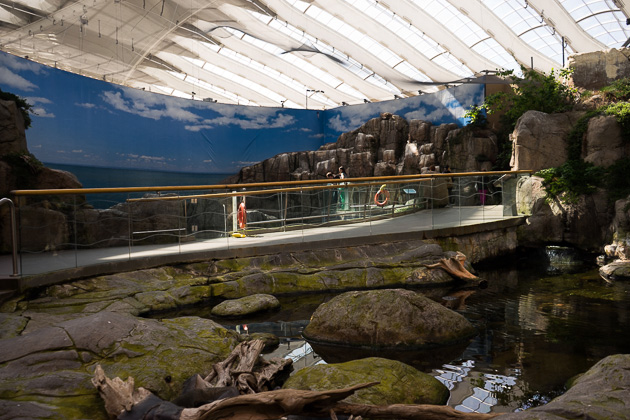 Dwarfed by the Olympic Stadium to which it's adjacent, the Biodôme doesn't look like much from the outside. But inside, an illusion of immense space has been created, and each of the five ecosystems are surprisingly spacious. After leaving the Biodôme, I looked back on the building in confusion. How did they manage to fit everything into that little cycling dome?
Walking through the Biodôme is surreal. It feels like you're in one of those films where life on earth has ended for whatever reason (global warming, nuclear apocalypse, the whims of Herr Trump), and the remnants of our planet's various ecosystems have been preserved in a bubble. "Look, monkeys! Remember those? Oh, the Earth used to be so wonderful."
You start in "Tropical Rainforests" ecosystem, where you can see animals like alligators, monkeys, parrots, snakes, bats, and if you're lucky, a family of sloths. (We weren't lucky.) From the rainforests, you move into a zone a little closer to home: the "Laurentian Maple Forests" of Canada. It's not as exotic, but this was actually my favorite zone inside the Biodôme. Monkeys and alligators are standard zoo fare, but you don't often get to see a beaver swimming around.
Did you know that when beavers poop, they dive underwater and do a little flip? Well, actually, I'm not sure if all beavers do that, or just this particular one. He was a bit of a scatological show-off. Talented, though, I'll give him that.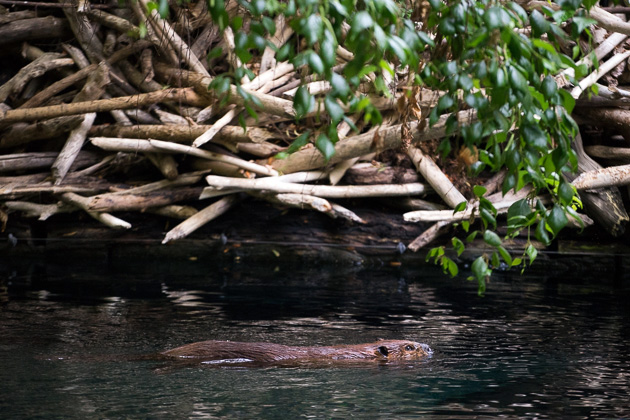 Next up is the Gulf of Saint Lawrence, where a 2.5-million-liter basin holds fish like the massive Atlantic sturgeon, dogfish and salmon, as well as starfish and mollusks. You can watch the action in this tank from both above and below. On the side of the basin, the Labrador Cliffs have been recreated, with guillemots and puffins diving into the water. The final zone in the Biodôme is dedicated to the Antarctic; you'll get zero points for guessing that penguins are the stars of this show.
We enjoyed the Biodôme more than we had expected to. Somehow, the concept of a "zoo inside a former cycling hall" doesn't ring with promise, but they've done a wonderful job with it. The Biodôme can be visited on its own, or in combination with any other of the Olympic Park's sights (the Planetarium, the Insectarium/Botanic Garden and the Olympic Tower).
Montréal Biodôme – Website
–Travel Insurance, instant online quote