As the St. Lawrence River winds its way from Lake Ontario to the Atlantic Ocean, most of its journey is smooth sailing. However, just before it reaches Montreal, the river hits a rough patch. Jürgen and I hiked to the neighborhood of LaSalle to check out the Lachine Rapids.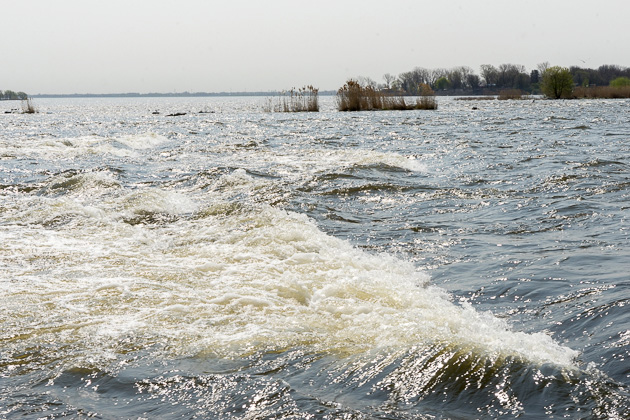 We started our day at the Parc Arthur-Therrien, across from the Île des Souers (or, Nuns' Island), so-named because of the Sisters of Notre-Dame who owned it for 250 years. From this park, it would be a five-kilometer trek south to the Parc des Rapides. There's a popular bike path running along the the St. Lawrence, but we stayed on a smaller dirt trail closer to the water, and enjoyed the riverside walk.
The path stretches along the base of a tall embankment, behind which Montreal's buildings were hidden from view, and we found it hard to believe that we were still in the city. The weather was beautiful, and our only companions during the journey were birds, reeds, trees, and the occasional jogger. The five kilometers went by in a flash, and soon enough we could hear the rumbling of the rapids.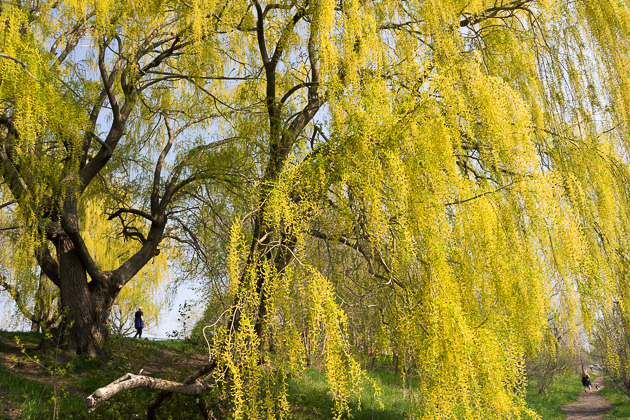 These white water rapids have long been a source of adventure for Montrealers. As far back as the nineteenth century, thrill-seekers would pack onto steamboats to navigate them. Even the Prince of Wales, Edward VII, wasn't able to resist a ride during his visit to Canada in 1860. While in the park, we saw a few rafts full of modern-day adrenaline junkies trying their luck. These rapids aren't the world's most treacherous, but they look like a lot of fun.
Less adventuresome are the hoards of people who visit the Parc des Rapides for birdwatching. This is a sanctuary for migratory birds, most importantly the great blue heron. There were dozens of birders in the park, equipped with cameras and gigantic zoom lenses. While they were watching and identifying new species, Jürgen was watching them, jealously identifying their expensive photography equipment. If they're "birders", I guess that makes Jürgen a birderer (a word which, incidentally, seems to be impossible for Germans to pronounce).
The Parc des Rapides isn't large; it's about 800 meters in length, on a narrow strip of land which lays between the rapids and a tranquil inlet. You can walk up and down the entire thing in about twenty minutes, and we recommend you do so. The further south you go, the less crowded the park becomes, since not many of the birders bother to carry their heavy camera bags all the way to the park's end.
–We Used This Software To Edit The Video