The Rio Tinto Alcan Planetarium
One of the buildings which makes up Montreal's "Space for Life" is the Rio Tinto Alcan Planetarium. It opened in 2013, and features two full-dome theaters which allow visitors to tour the universe.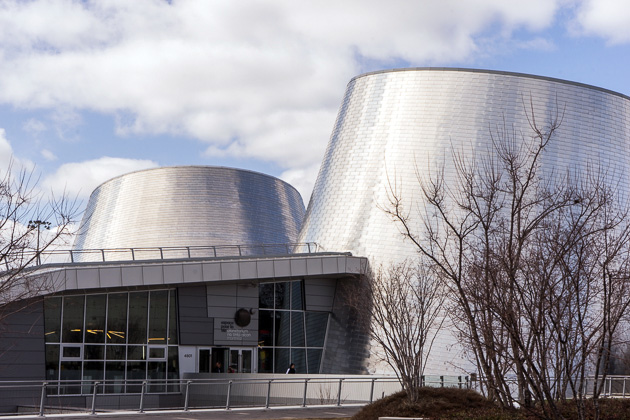 The "Space for Life" is said to be the world's first park dedicated to both nature and humanity. It's based in the Olympic Park, and includes the Insectarium, the Botanic Garden and the Biodome, along with the Olympic Tower. You can buy joint tickets which will get you into any combination of the sights… but I'd recommend against seeing the Planetarium at the end of a busy day. The Powell Exhaustion Equation states: tired bodies + bean bags + total dark = expensive nap.
We settled onto our beanbags inside the Chaos Theater and got cozy, while the lights dimmed to envelope us in complete blackness. "Uh-oh," I thought. "I'm never going to make it!" Luckily, the show was so fascinating, that staying conscious didn't involve much of a struggle. "Dark Universe," presented by Neil DeGrasse-Tyson, was an excellent presentation which took us on a journey through the least-known aspects of the cosmos.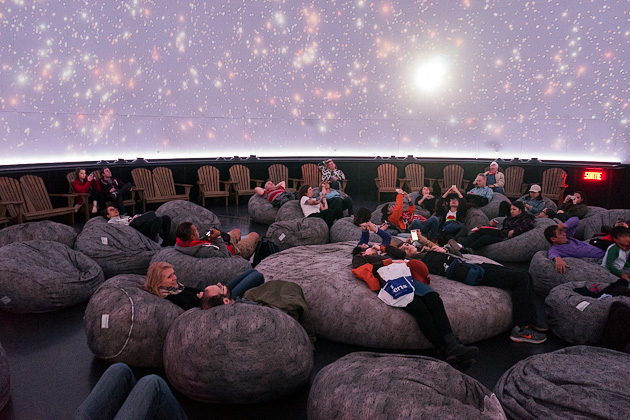 Dark Universe was the shorter of the two shows, and upon its completion, we had some time to check out the Planetarium's exhibit on meteors and down a few shots of espresso, before heading into the Milky Way Theater for a show called "Aurorae."
This was a more typical planetarium-type room, with seats inclined upward, and a central globe that was able to reproduce the night sky across the dome. First, we saw how the sky over Montreal would look tonight. An emcee pointed out some of the major constellations, such as the Big Dipper, Ursa Major and Leo, and taught us how to find Jupiter. And then, we embarked on a tour of the Northern Lights, during which we saw time-lapsed footage of the dancing lights and learned the scientific explanation for the phenomenon.
The Rio Tinto Planetarium offers shows in English, although less frequently than French-language shows, so make sure to check the schedule before heading over. The programs might change, but they always being with a more scientific show, such as "Dark Universe", followed by one with a lighter touch, such as "Aurora." It's a good mix, and a trip here makes for a perfect rainy day excursion.
Rio Tinto Alcan Planetarium – Website
–Get Your Very Own Telescope to Watch The Stars