The Views from the Olympic Tower
Built in 1976 for the Summer Games and attached to the Olympic Stadium, Montreal Tower's height of 165 meters (541 feet) makes it the tallest inclined tower in the world. We took the funicular up to the top, where there's an observatory that provides views of the Olympic Park, Mont Royal and downtown Montreal.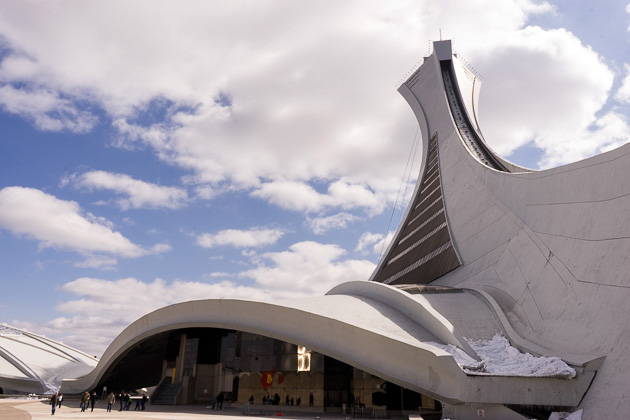 With its 45-degree incline, it would be an understatement to call the Montreal Tower "slightly tilted." For comparison, the Tower of Pisa only leans at five degrees. However, Montreal Tower doesn't exactly seem in danger of falling over. It's solid, with a massive underground concrete base that's the weight of three aircraft carriers.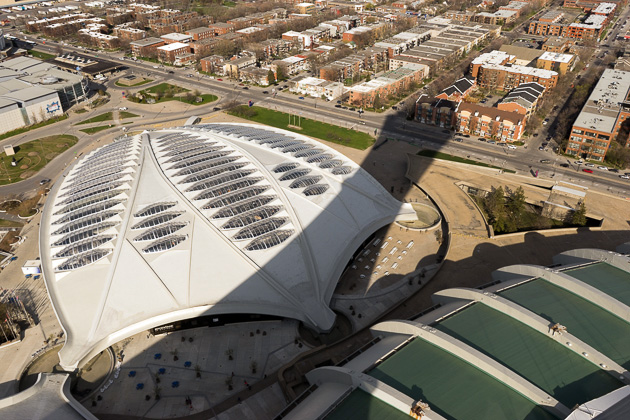 The funicular climbs the tower every ten minutes, whisking you to the top for one of the Montreal's best views. The Olympic Park is in the eastern neighborhood of Hochelaga-Maisonneuve; from here, you can see the entire downtown district in one incredible panorama. And you get a great sense for the true size of Mont Royal — it takes up nearly the same area as the downtown and is the same height than the city's tallest skyscrapers.
Although you can't step outside, the observatory has windows in every direction, with views of the St. Lawrence to the south, the industrial neighborhoods to the east, and the Botanic Garden to the north. And of course, right underneath, there's the Olympic Stadium. Formerly home to the Expos, the stadium is now mostly unoccupied and is known as the "Big O" for the doughnut-shaped hole in its roof. Many Montrealers, however, think of it as the "Big Owe." Its astronomical construction cost of $260 million was finally paid off in 2006, thirty years after the games themselves.
Location of Montreal Tower on our Map
–Software Used To Edit The Video Below