The Montreal International Jazz Festival
The Montreal International Jazz Festival invites over 3000 musicians together from dozens of countries, for well over a thousand performances, most of which are free. We wouldn't have the chance to see much of the festival, as it began during our final night in Montreal. But we did get a taste.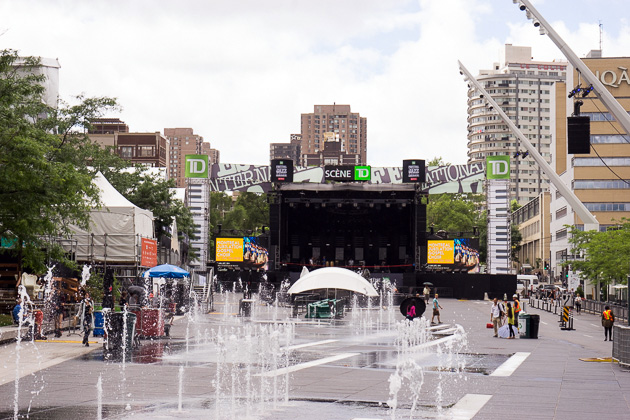 The Montreal Jazz Festival was first celebrated in 1980, and has since grown into the world's largest, certified as such by the Guinness Book of World Records, in 2006. But looking at the lineup, you'll notice right away that it's not all jazz. In fact, the invited bands and musicians represent a wide range of genres, including rock, soul, hip-hop and folk.
My heart raced as I looked through the program, which featured acts like Brian Wilson, Danny Brown, Jamie Cullem, Lauryn Hill, Noel Gallagher, Peter Bjorn & John, Rufus Wainwright, The Tallest Man on Earth and Wynton Marsalis. I'd have liked to see all of these! But since we were leaving the city on the festival's second day, the only act we were able to catch was Cat Power, who was playing a solo show at the Metropolis.
Out of all Montreal's summertime festivals (and there are tons), the Jazz Festival is the undisputed king. It's centered around the Place des Arts, where you can enter for free and check out performances by lesser-known artists throughout the day. This is in the heart of the city, and traffic is completely cut off for the duration of the festival, which draws millions of music-lovers.
Every single time we told a Montrealer that we'd be leaving at the end of June, we heard some variation on the same theme: "Are you stupid?!" We'd be missing July, widely agreed upon to be the best month in the city. And that meant we'd be missing the Jazz Festival. It was a little frustrating to be reminded of this fact over and over again, but we didn't really have a choice. I'm happy that we experienced a bit of the festivities… and we can always return. I have a feeling the Jazz Festival will be around for a long time to come.
Location on our Map: Metropolis | Place des Arts
Montreal International Jazz Festival: Website
–Independent Movie Recommendations