A mansion constructed in the early twentieth-century for two brothers, the Château Dufresne is found on the border of Montreal's Olympic Park. Although it looks like one massive residence from the outside, the chateau is actually comprised of two separate houses, one for each of the siblings, Oscar and Marius.
The chateau was built between 1915 and 1918. Oscar (a shoe magnate) and Marius (an architect) were French-Canadians, in a day when the great majority of Quebec's wealth was firmly in the hands of the British. But the brothers were proud of their heritage, and made no secret about it. Inside the house, you'll find numerous nods to French culture, including a table with Napoleon's portrait and items which belonged to the likes of Joan of Arc and Louis XV. The chateau itself is based on Versailles' Petit Trianon, in which Marie Antoinette once lived.
In 1948, the Dufresne family sold the chateau to the Congregation of the Holy Cross, who immediately got to work covering up all the "lewd" frescoes featuring naked bodies. After the city of Montreal had bought the property, the paintings were re-discovered in an excellent state of preservation. On the ceiling of Oscar's ballroom, for instance, there's a stunning set of twelve frescoes that detail the tragedy of Orpheus and Eurydice.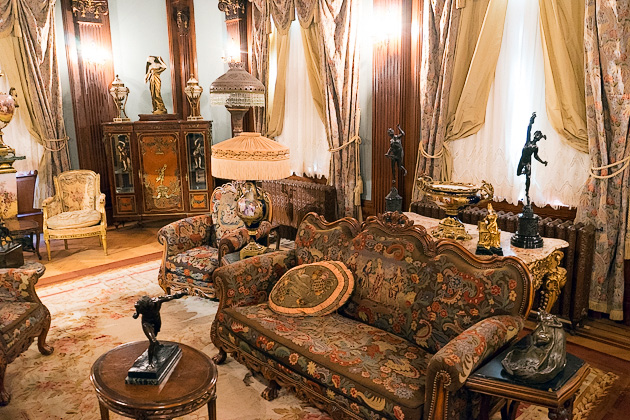 The ballroom isn't merely an exquisite exception; every room in this three-story Beaux-Arts home is gorgeous. There's a reason this building has become unofficially known as Montreal's "castle." The tour begins in Oscar's half, where highlights include the dining room, library and solarium. And after crossing into the other half of the chateau, you realize his brother Marius might have had even better taste. His family's residence is stuffed with furniture and accouterments from around the world. There's a Turkish smoking room, and the attention to detail is incredible, as is the state of preservation.
The tour of the Château is fun; each visitor gets a tablet, which acts as a guide through the various rooms, providing audio commentary and detailed information about the decoration, furniture and architecture.
On this side of the ocean, we don't have all that many palaces; mansions like the Château Dufresne are about as close as it gets. But we were just as impressed by this chateau as we have been by many of the princely estates we've had the chance to visit in Europe. Since it's found right next to the Olympic Park, with its over-abundance of attractions, you might be tempted to skip the Château Dufresne… but that would be a mistake.
Château Dufresne – Website