A Stroll Down Crescent Street
Downtown Montreal's Rue Crescent extends for just three blocks, from René Levesque in the south to Sherbrooke Avenue in the north, but a lot is packed into its small area. Bars, clubs, restaurants, and a line-up of quaint Victorian houses make Crescent one of the city's most attractive streets. We took an initial tour on one of the first sunny afternoons of spring, and couldn't believe the number of other people who'd had the same idea.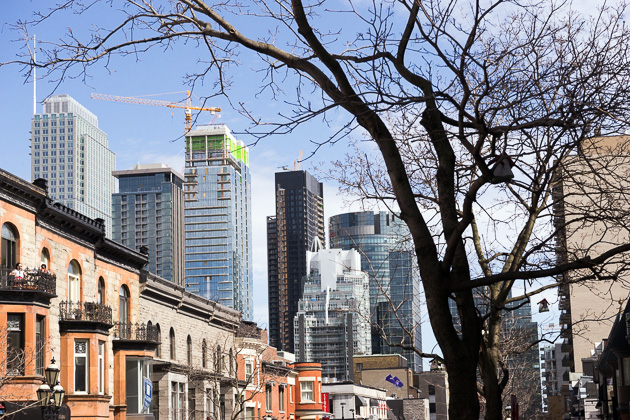 Rue Crescent is a study in contrasts. If you start at the bottom of the street, at René Levesque, you'll wonder what the big deal is. At this end, the buildings are ugly and modern, while the only establishments are sketchy-looking bars and the types of massage parlors which advertise themselves with three X's.
The middle third of Crescent beings to improve, with a number of popular restaurants. And I do mean "popular": we showed up on an early Thursday afternoon, at 3pm, and every single outdoor table was taken. Les 3 Brasseurs, Thursday's, Sir Winston Churchill Pub, Brewtopia… "Mike, what's that you're writing in your notebook?" Oh nothing! Certainly not a list of bars I plan on later dragging you to!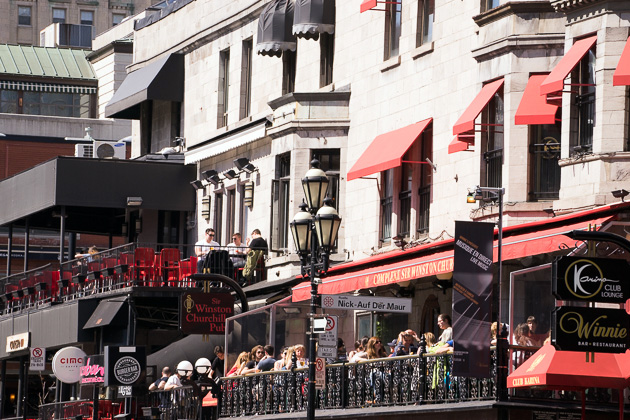 The final stretch is Rue Crescent's most beautiful, with an uninterrupted run of Victorian-style houses on both sides of the street. Most of these have today become eateries or boutique shops. But although these buildings would make splendid homes, I'm guessing not a lot of people want to actually live on Crescent Street, because it's known as one of Montreal's premiere party zones. That's particularly true in the summer, and particularly when Rue Crescent hosts its huge Grand Prix party, which unofficially kicks off the city's festival season.
Rue Crescent – Website