This came as a surprise to me, but Montreal is apparently famous for its bagels. It makes sense, given the city's strong Jewish community, but still: when I think "bagels," New York is what comes to mind, not Montreal. That unconscious mental association might have changed forever, though, now that I've been introduced to the bagels of St-Viateur.
St-Viateur was established in 1957 by Myer Lewkowicz, a Polish immigrant who survived the horrors of Auschwitz. Based in the Jewish neighborhood of Mile End, his was one of the first bagel shops in the city, and was an instant hit. After Myer's passing, the company was sold to Joe Morena, an Italian immigrant who had worked for years at the shop. Joe kept the recipe and bagel-making process the same, and St-Viateur has grown into a veritable Montreal institution.
St-Viateur is a perfect representative of Montreal's multiculti nature. It was founded by a Polish immigrant, and is now run by a man who was born in Italy. The manager who we met with, Saul, moved to Canada from Columbia as a child. And the guy shoveling bagels into the oven was from Sri Lanka. The shop itself is in a neighborhood with a huge population of Orthodox Jews, and everyone inside is speaking French. And this crazy mixture doesn't just work, it thrives.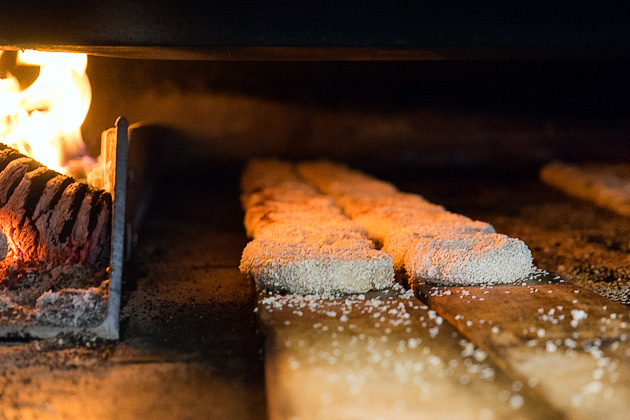 But are the bagels any good? Consider this: while we were taking pictures, a woman blew through the doors. Upon her grand entrance, Saul went around the counter and wheeled out two suitcases. He opened them, revealing that they were packed full of bagels. She was headed back home to London, and wanted to bring as many of St-Viateur's bagels as she possibly could. I was astounded; it seemed so over-the-top. "Won't you get in trouble with customs?", we asked.
"Who cares?! For these, I will pay the taxes!"
There's no great mystery to St-Viateur's recipe; no secret ingredient. "It's all in the process," Saul explained. After mixing, the dough is hand-rolled into bagel form, then left to rise for a few minutes. It's boiled in honey-water and then thrown into a deep, wood-fired stone oven. After fifteen minutes, the bagels are done, and the cook uses a long plank called a "shibba" to bring them out and dump them into the a metal holding bin.
The shop is small, and split roughly down the middle between the customer zone and the kitchen, which allows you to watch the whole process while waiting. And the bagels are wonderful; smaller and sweeter than New York bagels, with a perfectly crusty shell around the bread.
Before leaving, we grabbed a dozen, and memorized the bus number which had brought us here. Twelve bagels would last us roughly two days, we reasoned… next time, we'd have to bring a suitcase.
St-Viatuer Bagel – Website