The Big Orange of Gibeau Orange Julep
Every city needs a ridiculous roadside attraction, and Montreal's is the Big Orange of Gibeau Orange Julep. Found on the side of the Décarie highway near the metro station Namur, this three-story orange sphere is impossible to overlook. We decided to stop by and see if its famous julep was any good.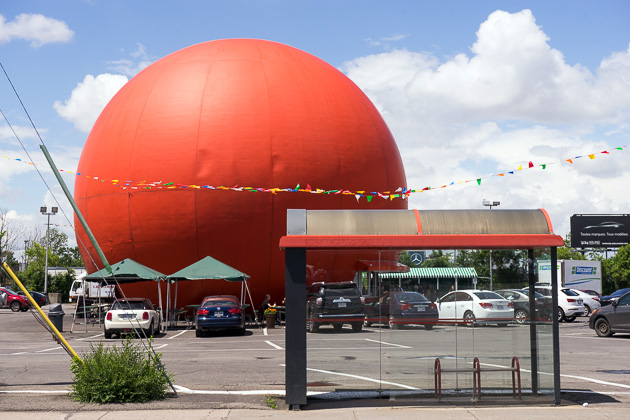 The Big Orange has been part of the Montreal landscape since 1945, when it was built by Hermas Gibeau next to the highway to advertise the frothy orange beverage he'd been selling since 1932 in downtown Montreal. The structure proved a hit, and soon Gibeau was erecting similar giant oranges throughout the city.
Today, only the original Big Orange on Décarie remains. It's still a popular restaurant, serving up greasy-spoon style burgers and fries. The food is pretty good, but the reason people come here is for the julep. This creamy drink is served with every meal; in fact, you're not even given a choice when ordering your menu. It's safe to assume that if you've come to the Big Orange, you'll be drinking the julep.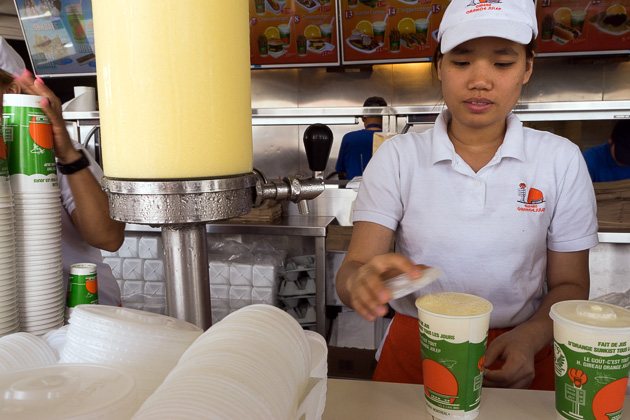 As far as I can tell, the drink of Gibeau's is practically identical to the Orange Julius we have at Dairy Queens across the USA, although I'm sure there are some connoisseurs out there who would be aghast at the comparison. The julep is made with milk, orange juice and loads of sugar. It's delicious, and I wasn't surprised to see people waiting in line with big plastic containers to fill up and take home.
For a long time, the Big Orange featured rollerskating waitresses, although that practice stopped a few years ago. It's become known as a gathering spot for classic muscle cars and motorcycles, and hosts a few events every year. In the summer, it's open around the clock and, despite having only outdoor picnic-table seating, remains open all year long. Not even freezing temperatures and snow are going to keep Montrealers from enjoying their favorite drink.
–Download our travel books here