The View from Place Ville-Marie
Built in 1962, the Place Ville-Marie was Montreal's first skyscraper, and signaled the start of the city's vertical construction boom. Its unique cruciform shape made an immediate architectural splash, and the building is just as impressive today. We visited its 46th-floor observation deck, shortly after it had re-opened to the public, following a period of renovation.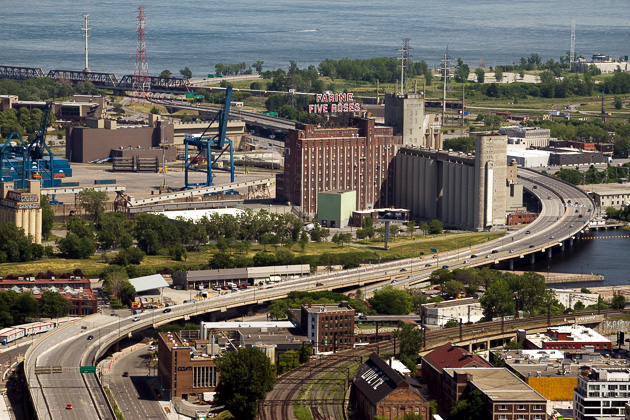 If downtown Montreal could be said to have a heart, it would almost certainly be the Place Ville-Marie, the city's most distinctive architectural landmark. Seen from above, its cruciform shape even resembles a big "X" marking Montreal on the map. The building is right in the center of the main business district and borders the massive downtown cathedral: Mary, Queen of the World.
At the time of its construction, the Place Ville-Marie was one of the tallest buildings in the world, and helped cement Montreal's status as the metropolis of Canada. It has been the headquarters for major companies like Air Canada and the Royal Bank, and around 10,000 people work there today. The building's height is 188 meters, making it slightly smaller than Mont Royal; a city ordinance prohibits buildings from surpassing the mountain in height.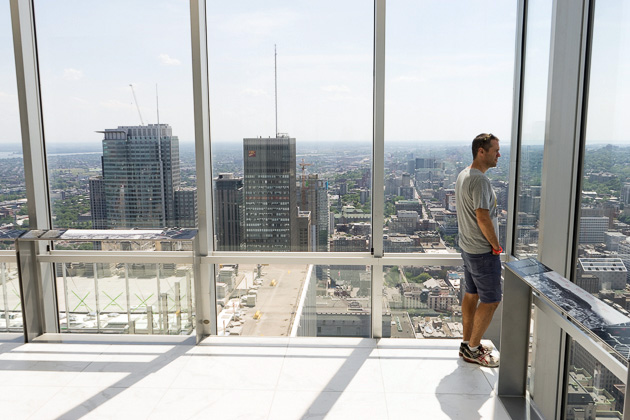 We visited the Place Ville-Marie's brand new, 46th-floor observation deck, just after it opened. From the top of this tower, one of the highest and most central buildings in Montreal, the view was predictably incredible. We were able to spot many of the parks and sights we'd spent time at over the course of our 91 days in the city, and Mont Royal looked especially impressive from here. And the full-sized glass windows provide incredible panoramas of Montreal from every direction.
An interactive exhibition on the 45th floor introduces some aspects of Montreal's culture and heritage, from its hockey obsession to its famous nightlife, and a restaurant on the 44th floor serves up dinner with a view. But it's the observatory where you're likely to spend the most time; from up here, Montreal is absolutely stunning.
Place Ville-Marie – Website