It might not surprise you to learn which group of immigrants built Saint Patrick's Basilica. It was the Irish, who began arriving to Canada in the early nineteenth century. Set atop a hill in downtown Montreal, the imposing Gothic Revival church was completed in 1847.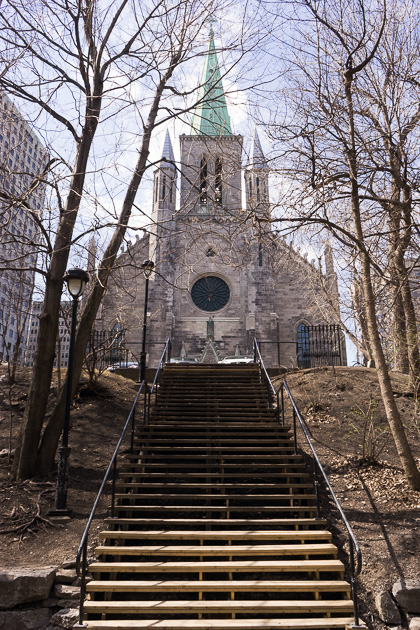 The 1800s weren't exactly good times in Ireland, with problems like overpopulation, famine, and tyrannical British rule forcing a huge percentage of the island's population to leave home. Montreal was a natural choice for immigration: it wasn't too far away, and the Irish felt comfortable in the mostly Catholic city. It didn't hurt that French Canadians were just as antagonistic toward England as the Irish themselves.
From about 1815 on, thousands of Irish men and women arrived to Quebec every year; in 1847, the year of the Great Famine, over 100,000 made the journey. They went to work on the Montreal's various construction projects, such as the Queen Victoria Bridge and the Lachine Canal. The city still has a huge percentage of residents who identify as Irish, and throws one of the continent's largest Saint Patrick's Day parades.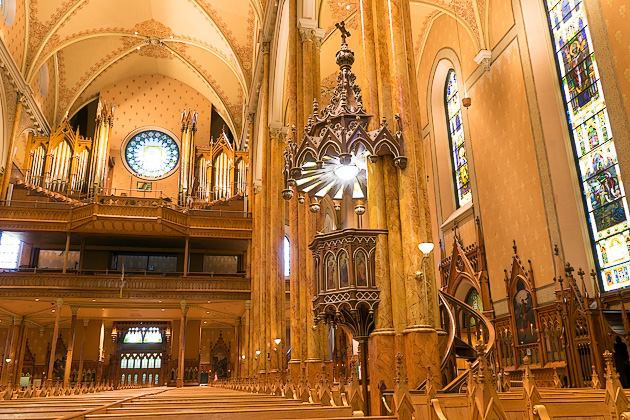 The first church in which the Irish congregated was the Notre-Dame des Bon-Secours, but that was soon too small for their growing numbers, and funds were raised for a new church to be built on a hill on the outskirts of the city. Today, Montreal has grown, and Saint Patrick's Basilica is in the middle of downtown, enclosed by some of Montreal's tallest skyscrapers.
The Gothic facade of the church is severe, with a jagged, grim countenance, but the interior is a different story entirely. Yellow-tinged stained-glass windows bathe the church in a warm light, and there's art everywhere you look. Around the walls, you'll find over 150 paintings of various saints, including St. Kateri Tekakwitha (Canada's first aboriginal saint), along with fourteen large paintings which represent the stations of the cross.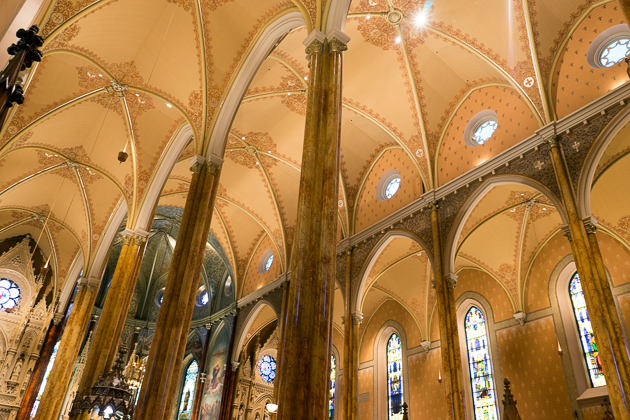 Even the marble columns which support the church are noteworthy, especially when you realize they're not marble at all. These are actually massive pieces of pine, each twenty-five meters high, which have been painted to resemble marble. Another interesting item in the church is a piece of bone from Saint Patrick himself, stored within a small side chapel next to the altar. (Catholicism's macabre love for human relics has always baffled me.)
Leaving their homes behind and journeying to the New World surely wasn't an easy thing to do, but Montreal's Irish newcomers must have been pleased to have a church as beautiful as Saint Patrick's in which to worship.
Saint Patrick's Basilica – Website
–Book Your Flight To Montreal Here