Download our Montreal Travel Book
Centered around the Rue de la Gauchetière, Montreal's isn't the biggest Chinatown you'll find in North America, but it's among the most historic. Chinese families began immigrating to this area in the 1860s, and today the neighborhood is a vibrant mix of Asian restaurants, shops and culture.
Montreal's Chinatown doesn't take much time to walk through; it extends just a couple of blocks in each direction. But there's a lot packed into the small area, and a thorough exploration might take hours… especially if you're hungry.
I like Asian food, but Jürgen loves it. So when I realized how close our apartment was to Chinatown, I knew I was in trouble. Indeed, every time… every single time I asked what he wanted to do for lunch, his face would light up with glee. To his credit, he did give me a choice: "Korean, Ramen, Dumplings or Mongolian Hot Pot?"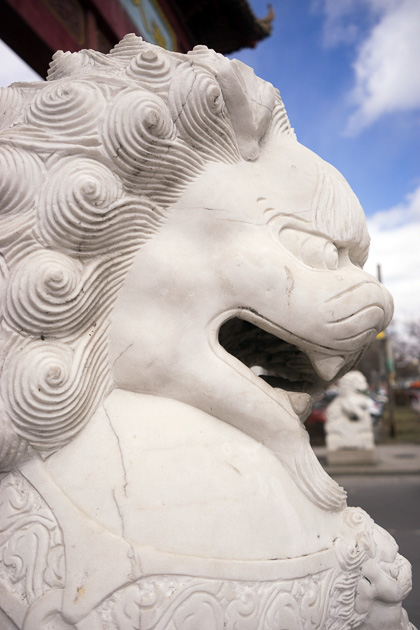 It might be called Chinatown, and Chinese shops are definitely in the majority here, but this neighborhood is home to a wide variety of people and restaurants. You'll find Korean bibimbap, Japanese shabu-shabu, Chinese noodles and Vietnamese Pho, almost all of it is reasonably priced. Chinatown is regarded as one of the best areas in Montreal for good cheap eats.
Montreal's Chinatown Has Cheap Eats
You'll know you've entered the neighborhood after passing through one of the four paifang, or ceremonial gates, which mark its borders. You'll find old tea shops, stores selling paper lanterns and decorations, cheap barbers, and confectionery shops. We stopped in at one that was advertising "Dragon Beard Candy," a treat once made for the emperors of China. Stretched out into fine, white hair-like threads, it actually does resemble an old Chinese man's beard. Luckily, it doesn't taste like one.
The Rue de la Gauchetière is a pedestrian zone, and develops a festival-like atmosphere on summer weekends, when many events are held out on the street. The party doesn't stop once the sun goes down; in fact, because Chinatown has been named a special "tourist" zone of Montreal, its bars and clubs are permitted to stay open later than normal.
–Download our travel books here!