Under the Dome at SAT – Société des Arts Technologiques
At first glance, you might mistake the gleaming dome on Boulevard St. Laurent for that of a modern mosque. But in fact, it's an immersive exhibition space utilized by Montreal's Society of Technological Arts, or SAT. SAT is a collective of artists and engineers dedicated to a wide array of projects, from mind-bending multimedia shows in the dome, to practical networking and communication applications.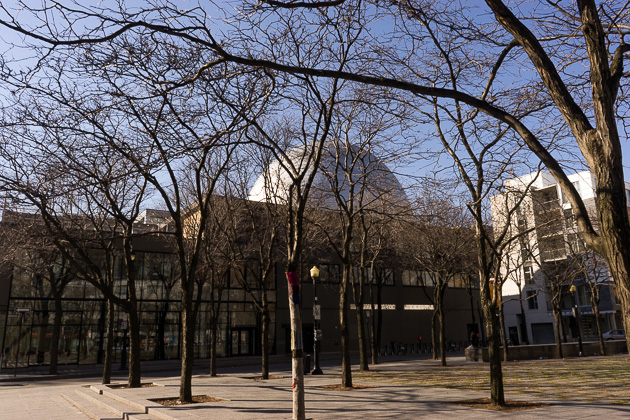 Montreal is equally accomplished in both the worlds of culture and high-tech; not only is this city home to Cirque du Soleil and the world's largest jazz festival, but it's also an important hub of the aerospace and video gaming sectors. So a place like SAT, a non-profit organization which blends the arts with technology, feels right at home.
About fifty people work full-time at SAT, but there's a constant influx of artists from all over the world, who come for temporary projects. The organization hosts courses in multimedia disciplines like "Creation of Online Films" and "Compositing Video with After Effects," offers residencies and even runs technological summer youth camps.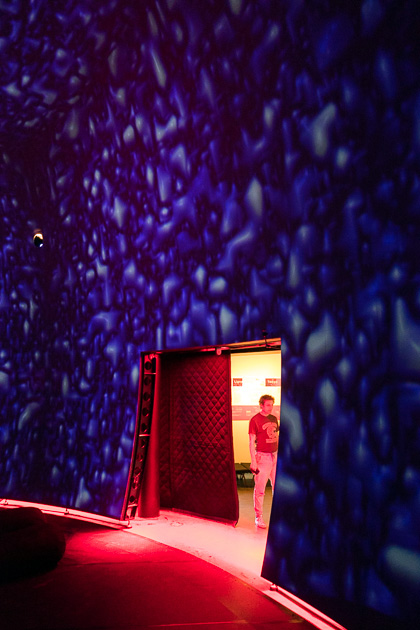 SAT also opens its doors to the public, welcoming visitors to its third-story terrace restaurant every evening after 5pm. This is a cool spot to hang out and, if the Wednesday night crowd we saw is any indication, it's not exactly a "hidden secret." We snatched a table outside on the terrace to enjoy a beer in the sun, and played a SAT-inspired game: is that person an artist or an engineer? It's surprisingly difficult, both groups seem to have the same fashion sense, and are apparently big beard fans.
We couldn't linger on the terrace for too long, because a show was starting in the Satosphère. This dome was built in 2011, and is used primarily for immersive artistic endeavors such as "Cauchemar Merveilleux," the show we'd be seeing. This was a bizarre merging of the poetry of French performer Arthur H and computer-generated visual projections that simulated clouds, stars, tunnels and skyscrapers. It was all in French, so I didn't understand much (except for the bit about Batman being a homosexual cyborg… which… I guess you couldn't really say I "understood.") On weekends, the Satosphère is used for live sets featuring both DJs and VJs, who live-mix video projections against the dome.
SAT (Société des Arts Technologiques) – Website