One of the largest gay villages in the Western Hemisphere is in Montreal. A square of blocks centered around Rue St. Catherine, Le Village has provided a place of acceptance and inclusion for the city's gay community since the 1970s.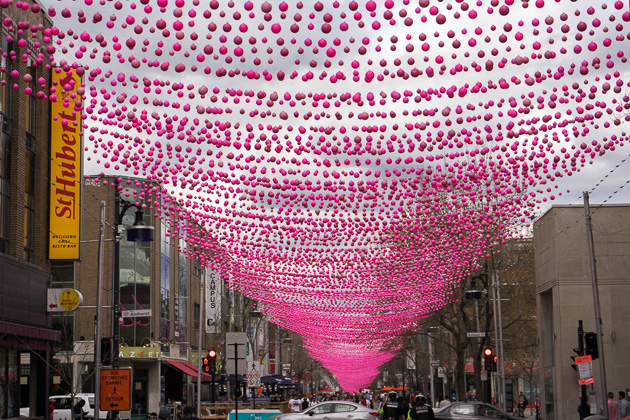 Our personal observation is that "gayborhoods" such as Le Village seem to be on their way out, and we're alright with that. Jürgen and I were lucky to come of age just as gays were being accepted in the mainstream community. When I came out to my friends, not a single one tried to beat me up; in fact, the most common response was "Cool!" It was as though they were happy to finally have a fabulous gay friend. (They quickly learned that being gay did not automatically make me fabulous… I was still the same sloppily-dressed computer nerd I'd always been.)
But I digress. The point is, my coming out process wasn't filled with the anguish and sequestration experienced by legions before me. I wasn't expelled by my family or renounced by my friends, and there was no need to seek solace in a neighborhood of like souls. I could comfortably go to "straight bars" (and even meet guys), and my straight friends had no problem accompanying me to the "gay bars." It's become all mixed up… which is the way it should be; it's the very thing for which prior generations fought.
Which brings us to Montreal's Gay Village: a paradise for the young gay man of 1979. There are strip joints, cruising saunas, drag shows, sex shops and bars with names like "Le Stud." It's the kind of place you might see the bear flag flying. Le Village might be a time warp, but we love it. Even if we can feel comfortable at a rowdy sports bar, it's refreshing to be somewhere that gay guys aren't the exception, but the rule. A place where banks advertise with the rainbow flag. Where even the neighborhood church has an AIDS memorial.
Montreal's Gay Village came into being in the 1970s and 80s, after the forced closure of a number of gay establishments in other parts of the city. The city was making an effort clean up "undesirables," but gays are like weeds. You'll never completely be rid of us, we'll just sprout up somewhere else!
Naturally, Montreal's gays and lesbians now thrive all over the city, but a huge majority of the gay-themed bars and shops are still concentrated in the Gay Village, particularly along Rue St. Catherine. We spent many evenings here, underneath the pink balls which are installed over the street during the summer, and we always had a good time. It might not be 1979 anymore, but Le Village has managed to stay cool.