Lunchtime in Little Italy
If you follow St. Laurent north, past the train tracks and Rosemont Boulevard, you end up in the neighborhood of Little Italy, which has long been home to Montreal's Italian expat community. With espresso cafes, pizzerias, upscale restaurants, and pastry shops, Little Italy is a place you should visit when you're hungry, and not leave until you're stuffed as full as a cannoli.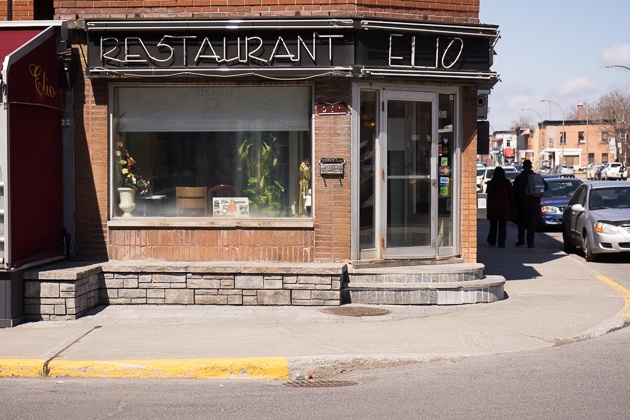 The motherland's influence is strong in this neighborhood, but you're not going to mistake the streets of Little Italy for those of Rome or Palermo. This is still Montreal, through and through, with its grid-like layout and winding exterior staircases attached to squat three-story residences. But close your eyes, listen, and inhale… now, you're in Italy! The sounds of the marketplace, the smell of coffee beans and pizza crust… Mamma mía, siamo a casa! Mangiamo!
The food will come, but first let's take a walk and build our appetites. Jürgen and I started our day at the Marché Jean-Talon, and headed south. Italians have been part of Montreal's story since the 17th century, and were some of the first immigrants to arrive in the city, working mostly on the railway. The biggest wave, however, came after World War II. Today, a quarter of a million Italians live in Montreal.
The neighborhood's most important church is the red-brick Madonna della Difesa, which was built in 1919. This was prior to the war, so the church's famous fresco of Benito Mussolini isn't quite as offensive as it might be. All of the paintings inside the church are by Guido Nincheri, an Italian immigrant to Montreal also responsible for the frescoes of the Château Dufresne.
Alright, that's twenty minutes of sight-seeing, good enough. It's lunchtime! We grabbed tables at the Pizzeria Napoletana, a classic restaurant near the Madonna della Difesa. The place was crowded, and as we waited for our pizzas, I noticed our fellow diners pulling bottles of wine out of their backpacks. In Montreal, many restaurants allow you to bring your own wine, and they don't charge you any sort of corking fee.
I looked longingly at Jürgen, who said, "Go, Michael, go," and I was off; out the door and into the depanneur across the street. Minutes later, our beefcake Italian waiter was uncorking the bottle. The pizzas, by the way, were perfect. I had a simple margherita that was to die for. After eating, we made a beeline for the nearby Patisserie Alati-Caserta, where we had seen cannolis in the window. This was turning into a gluttonous day, and we couldn't have been happier.
We walked west along Calle Dante, passing a bar named Inferno (naturally), until finding the Quincaillerie Dante: an awesome little shop selling espresso machines, kitchen gadgets and … shotguns? Looks like we're still in Canada, after all.
By now, we had reached Boulevard St. Laurent and the famous Milano Supermarket. We had heard a lot about this place, and wondered how a simple supermarket might achieve such popularity. But now, we understood. True to its name, Milano is as Italian as supermarkets come. Right after entering, you encounter bags of homemade pastas. This store has as many varieties of olive oils, as other supermarkets have cereal brands. The wines, and the sweets and the sauces and the cheese … I will dream of you, Milano!
We finished off our tour of Little Italy with espresso at the Caffè Italia, next to the supermarket. All of the tables were occupied, mostly with retired Italian men who probably meet here every single day, and we grabbed the last two stools at the bar. We sipped our coffee as slowly as possible, and listened to the old guys grumble about politics and sports. It seemed like the perfect way to end a perfect day in Little Italy.
Locations on our Map: Marché Jean-Talon | Madonna della Difesa | Pizzeria Napoletana | Patisserie Alati-Caserta | Milano Supermarket | Caffè Italia
–Subscribe to our Travel Videos on Youtube