Opened in 1933, the Marché Jean-Talon is one of North America's largest public markets, with dozens of stands selling fresh fruits, veggies, meats, cheeses and more. For those lucky enough to live nearby, the Jean-Talon is a daily part of life. For the rest of us, it inspires fits of jealousy. Why isn't there a market like this in my neighborhood? It's a valid question, so somebody answer it!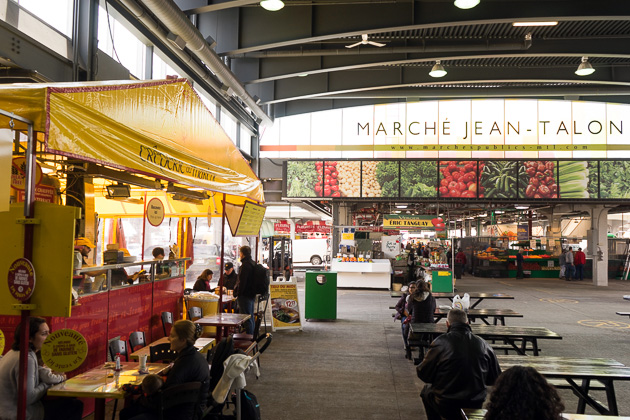 The Jean-Talon is incredible. First off, the prices aren't just competitive with the grocery store in which we shop, they're much better. And the produce is of far superior quality. There's just no comparison. Furthermore, you're getting something you'd never get (or want) in a supermarket: human interaction. You'll chat with the guys putting broccoli in your bag; they'll be squeeze-testing the avocados, and suggesting tomato varieties that might work best with your recipe.
And then there are the specialty shops, selling stinky cheeses and strange pates. There's a fish shop, a crepes shop, a chocolate shop. There's a stand selling Turkish sweets like baklava and lokum. There's even a corner shop which exclusively sells cooking books; now that's an inspired idea for a food market, which I'm surprised we don't see more often.
So yes, I hate the Jean-Talon. I hated it while I was walking around, and I hate it right now. Just thinking about this market fills me with bitterness. I mean, I just returned from my neighborhood IGA, carrying two bags full of mediocre, overpriced food. If you're one of the few lucky enough to live near the Jean-Talon, congratulations. I'm slow-clapping for you, do you hear it? Enjoy your amazing produce, jerk.
Marché Jean Talon – Website