Set inside an imposing art deco building on the waterfront near the Lachine Canal, the Atwater Market is home to a wide variety of butchers, bakers and produce stands. The market was too far away from our apartment in Old Montreal, but this was probably a good thing. If we had shopped there every day, we might have been healthier and happier, but we'd also have gone broke.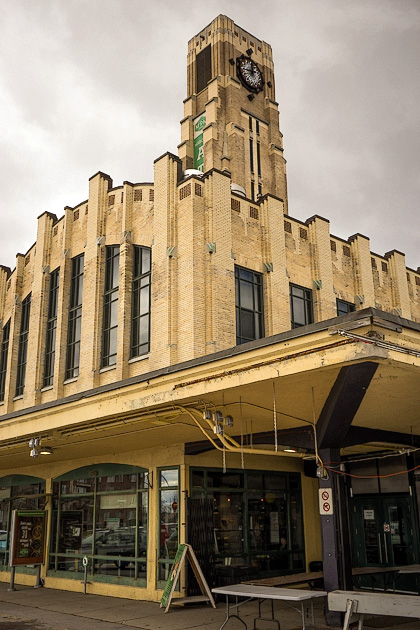 The Marché was constructed in 1933 and named after local politician Edwin Atwater (who's also been honored with a nearby metro station). It was part of the public works projects which were designed to stimulate growth in Montreal following the devastating 1929 stock market crash.
Since its earliest days, the market's primary focus has been selling high-quality produce and meats to the citizens of Montreal. A number of delicatessens can be found within its walls, although not as many as you might think. The market building looks enormous from far away, but it's actually quite narrow, with space for just a couple rows of shops.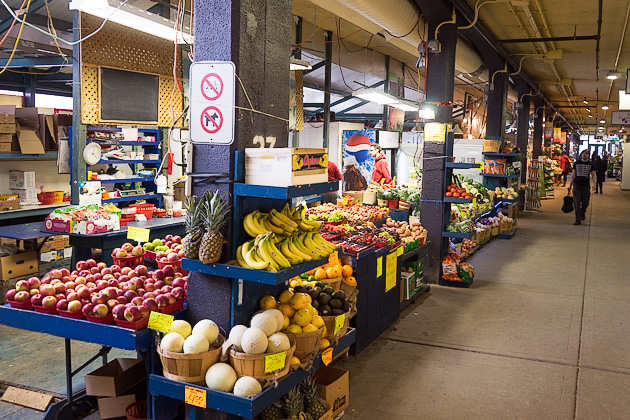 But you'll find stands selling every type of delicacy you might want. There's one dedicated entirely to sausages, with dozens of flavors such as "truffle" and "broccoli." There's a massive bakery, a shop selling specialty cheeses, a wine store, plenty of butchers, one that focuses on Italian pastas and sauces, and any number of fruit and veggie vendors.
We visited just before lunchtime, and that was a mistake. It was as though my stomach had developed its own eyes and nose. Even if I wasn't physically looking at them, my stomach seemed hyper-aware of all the most delicious foods. It would grumble to alert me, then drag me over to the ricotta-stuffed shells… the baby-back ribs… the wide-ranging selection of pates and jams. "Stop it, stomach, or it's tofu again for you!"
As much as I'd have liked to indulge my every desire, the prices at the Atwater Market kept us from splurging. Unless you're loaded, this isn't a place for day-to-day groceries. But if you're looking for a certain sort of cheese that the supermarket doesn't stock, or preparing dinner for a special occasion, it's perfect. And even if you're not planning on buying anything, it's worth stopping by just to see the architecture and admire the beautiful food.
Marché Atwater – Website
–Our videos are edited with this software