The Impact at Stade Saputo
In 2012, Major League Soccer expanded to Montreal, finally giving the city another top-tier team to follow besides the Canadiens. The Montreal Impact play in the Stade Saputo, within the Olympic Park, and we decided to check them out for a Saturday match against the Colorado Rapids.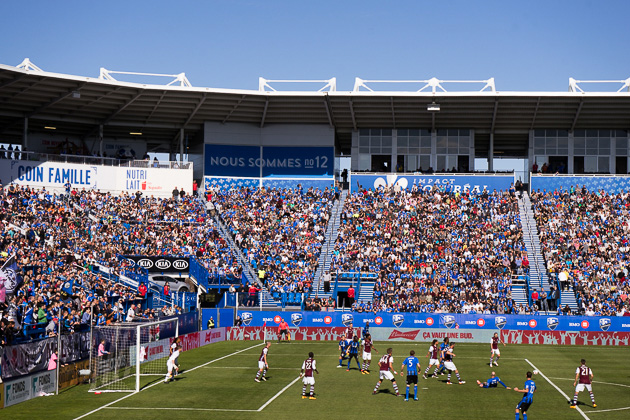 I was able to see Didier Drogba score a goal! Soccer snobs might roll their eyes at me, and they're not totally wrong. This was an early-season MLS game, Drogba is years past his prime, and it's not like we were at the Champions League Final. But still: I got to see Didier Drogba score a goal. If you're a soccer fan, that's special in any circumstance.
Drogba is by far the Impact's biggest star. After dominating European soccer and establishing himself as one of his generation's greatest strikers, the Ivory Coast international came to Montreal in 2015. And although he might be in the twilight of his career, he's still the team's most exciting player. Watching him smash home a free kick made me so happy… and since Impact wear blue kits, so it didn't take much to imagine that he was still with Chelsea.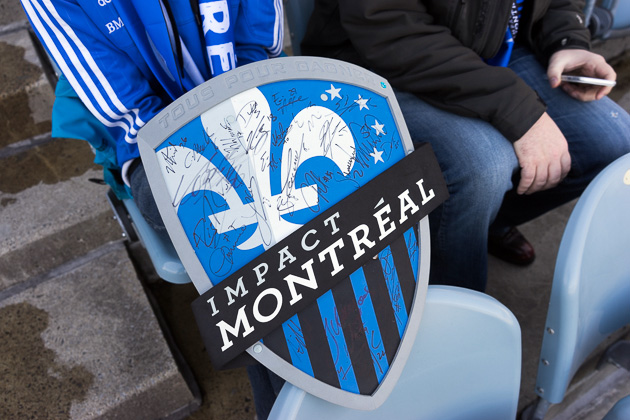 Drogba's ninth-minute goal was the highlight of our day at the stadium, but the whole experience was a lot of fun. Stade Saputo was built in 1996, when the Impact were still toiling away in the NASL (North American Soccer League; basically the second division). Their stadium seats 22,000 people, and is frequently packed to capacity. Even this relatively unimportant game against the Rapids was sold out, and the supporters are proper soccer fans. The goal-zone was hopping the entire match with chanting, singing, flag-waving and ringing the "North Star": a five-foot bell which is sounded after each Impact goal.
The fans had reason to celebrate this season. Not only do they get to bask in the smoldering glow of Didier Drogba's late career, but their team was battling for first in the MLS. And although they haven't yet won the MLS Cup, the Impact have had some success. In 2015, they played in the final of the CONCACAF's Champions League, when over 60,000 fans came to the Olympic Stadium to watch them take on Mexico's Club America.
It warms my heart to see soccer succeeding in North America. Montreal really seems to be behind their team, and we frequently see people wearing Impact gear in the city. If the atmosphere inside the stadium is any indication, the sport should have a bright future in Montreal.
Montreal Impact – Website