When it opened in 1830, Montreal's Notre-Dame was the largest church in North America, and it would remain so for fifty years. Today, this French Gothic Revival basilica is one of the top attractions in the city.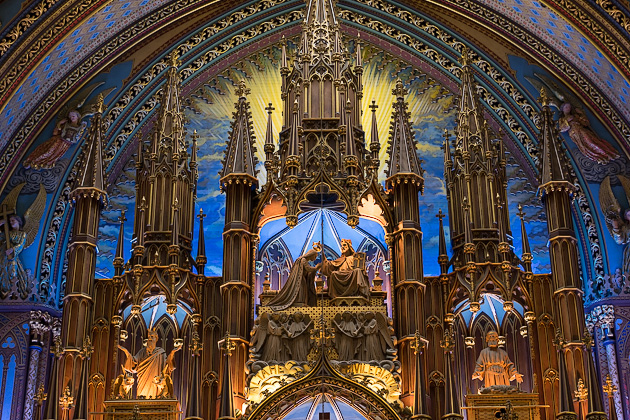 In 1640, during the earliest days of the French colony, the Sulpician Order built the first church of Notre-Dame across from the Place d'Armes. But after a couple hundred years, there were far too many worshipers for the humble church. To reflect its growing power and influence, Montreal required a much grander place of worship.
So the decision was made to tear down the old Notre-Dame, and build something new. James O'Donnell was the architect in charge of the project. This Irish-American protestant was a curious choice for a cathedral in French-speaking Montreal, but it turned out to be an inspired one. Apparently, you don't need to be Catholic to build catholic churches. Hoping to be buried in his finest architectural creation, O'Donnell converted to Catholicism shortly before his death, and is still the only person entombed in the basilica's crypt.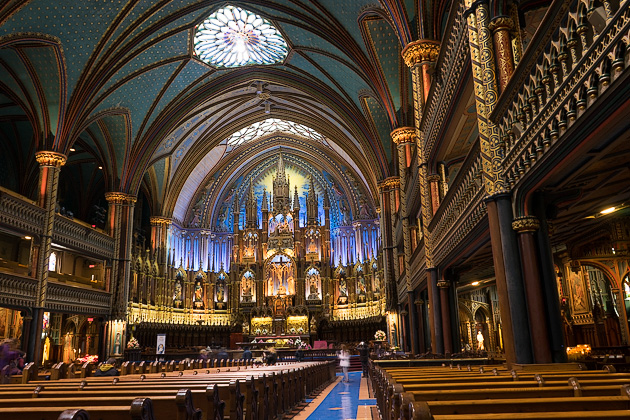 With its two Gothic towers and ornate facade, the Notre-Dame strikes a fine figure when viewed from the Place d'Armes, which it faces. But it isn't until you step inside that its true beauty is revealed. Bathed in blue and gold, with vaulted ceilings, colorful stained glass, intricate pine carvings and a massive altarpiece, there's not a corner of the Notre-Dame which fails to impress.
The basilica's stained glass windows provide a unique touch. They don't depict religious scenes, as would normally be the case for a church, but moments from the founding of Montreal. Instead of Jesus on the crucifix or the assumption of Mary, we see events like the arrival of the French at the Pointe-à-Callière, the construction of the church, and the re-education of the natives.
The windows will pull your attention to the side, the magnificent altarpiece will bring it to the front, and the blue vaulted roof will compel you to look up, but don't forget to turn around. At the back of the church, you'll find another highlight: a giant organ dating from 1891 and made of 7000 individual pipes. It's recently been tuned (a process which took weeks), and according to our guide, sounds better than ever before. The organ is played during Sunday service.
Behind the altar, we found the Sacré-Cœur Chapel. After an arson attack in 1978, this chapel was completely rebuilt by a team of master carpenters, who used only linden wood. With natural light pouring in from above and illuminating the wooden statues and modern altarpiece, this chapel feels entirely different to the rest of the cathedral; warmer and more rustic. More Canadian, somehow.
Notre-Dame Basilica – Website