Built as the American Pavilion for the 1967 World Expo, the Biosphère on Île Sainte-Hélène has become one of the defining landmarks of Montreal. Today, this geodesic dome is home to a museum about the state of our planet's environment.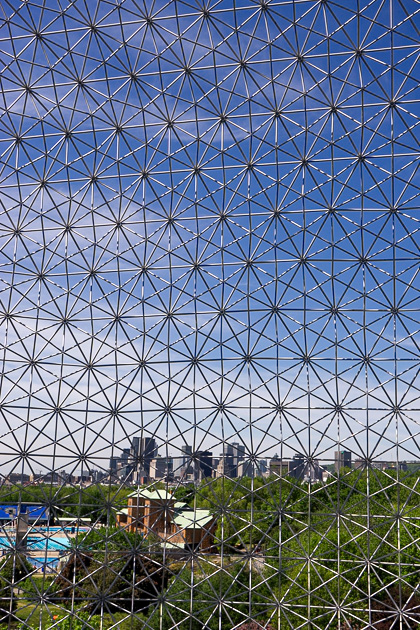 The Biosphère is one of the most recognizable buildings in Montreal, and is at its most impressive when you're standing inside it. The geometric pattern used to create the dome (a Class 1, Frequency 16 icosahedron, since you asked) is mesmerizing, and it's easy to become dizzy while staring up and around at the intricate system of interlocked metal bars. This is the work of the famous American architect and theorist Buckminster Fuller, who helped to popularize geodesic domes in the 1950s.
When it was built for the Expo, the Biosphère had been covered with a plastic shell. But in 1976, the shell caught fire in spectacular fashion. The metal girder remained unscathed, but the sphere was closed to the public for nineteen years, before reopening in 1995 as a museum dedicated to water. In 2007, it was re-branded as the Biosphère.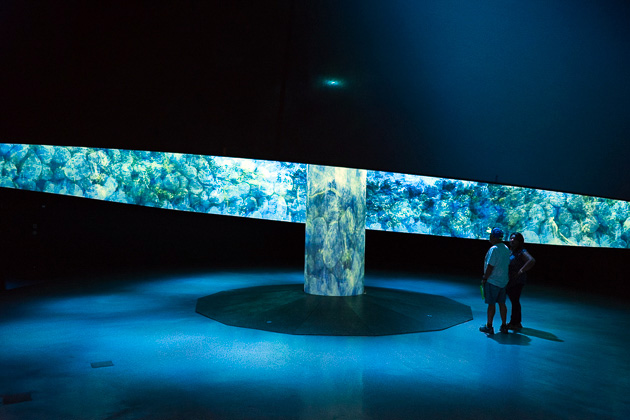 The exhibitions inside the Biosphère are what you might expect from an environmental museum, though they've done a good job of balancing the doom and gloom with optimism for the future. The best exhibit is a 360° cinema experience that recreates wind, rain and snow, and provides concrete examples of how humans are applying lessons from nature within our newest technology. For example, we're learning how to make LEDs more efficient by studying fireflies, and designing optimal mass transport systems by looking at the veins of a leaf.
Other exhibits allowed us to re-enact a scientific study into water and air pollution, and take a walk through a tribute to the forests. On the top floor of the museum, there's a viewpoint which offers a view of Montreal's skyline through the bars of the dome.
Montreal Biosphère – Website
–Subscribe to our Youtube channel