La Sucrerie de la Montagne
You can't take a trip to Quebec without at least once visiting a Sugar Shack. I'm pretty sure that's a law. Jürgen and I spent a sunny April afternoon at La Sucrerie de la Montagne, about an hour west of Montreal. We walked around the maple trees, peeked into the buckets, learned how the sap is boiled down, and enjoyed a hearty meal… all of it drenched in maple syrup, of course.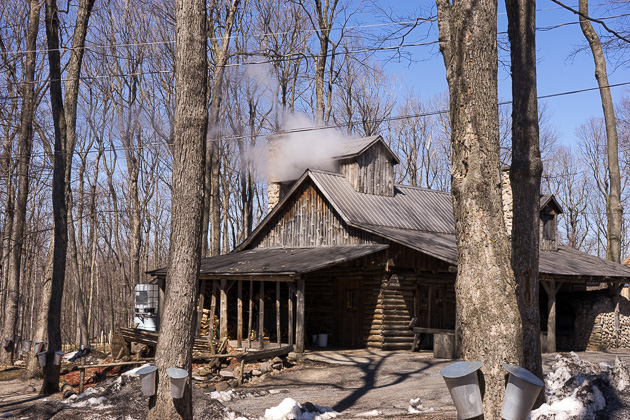 When we first met Pierre Faucher, the owner of the Sucrerie de la Montagne, I couldn't believe my eyes. Hollywood itself couldn't have cast a more perfect "Quebec Maple Syrup Man." With his burly build and undisciplined grey beard, he looked like he'd been born in the woods, raised by bears, and weaned on maple syrup.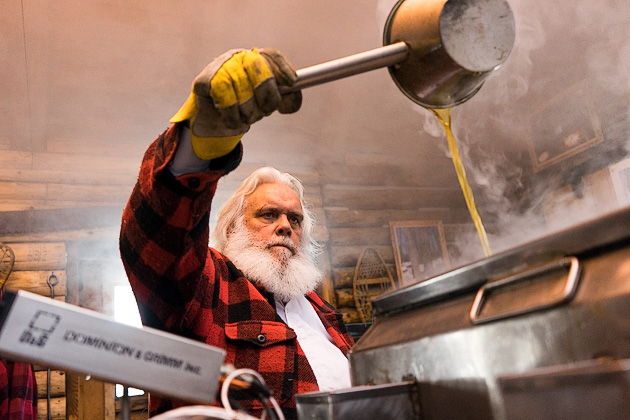 And in fact, Pierre is as Québécois as they come. He's directly descended from a family who arrived from France in 1659, and were among the first settlers. He told us that almost all of the other families had perished in the early years of New France. "Only the strongest survived," he boasted, pounding his chest. And when we met Pierre's son, Stefan, the hearty blood lineage was confirmed — Stefan looks just like his father, but was even a little bigger.
Early April turned out to be prime season for maple syrup production — there's only a brief, one-month window during which all the syrup for an entire year is produced. We had found Pierre hard at work inside the shack where the sap is boiled down into syrup. It was one of those perfect moments: opening the door to a log cabin in the middle of the Quebec woods, to find this mountain man shoveling logs into an old oven, while plumes of sweet-smelling vapor filled the room.
I get the feeling that, during the short production season, Pierre is inside the shack almost non-stop. The sap which comes from the trees is clear and watery; it needs to be boiled down from 40 parts to one, so it's a long, painstaking process… and when the syrup is finally ready, there's cause for celebration. We were lucky enough to be in the room when the "liquid gold" began dripping and then flowing out of the vat. Pierre lit up with joy. "Look at it go! Wonderful!"
I had almost the same reaction an hour later, after we had sat down for lunch, and the food began arriving at our table. "Sausages, ham, potatoes, beans and soufflé? All we can eat? Wonderful!" Naturally, there was a big bottle of maple syrup was at our table, which we made liberal use of. We drank maple-flavored beer and had a dessert of pancakes and sugar pie, both of which we drowned in syrup. Because sugar pie definitely needs maple syrup. This meal was nearly enough to induce a coma… a Sugar Shock at the Sugar Shack.
So, during our first couple weeks in Montreal, Jürgen and I had seen the Canadiens play hockey, visited a sugar shack, and learned that (for some reason) uttering the word "tabernacle" in a bar is reason for riotous laughter. We were progressing! By the time we left Montreal, we'd almost be as Québécois as Pierre and Stefan Faucher. Just gotta work on the beards.
Sucrerie de la Montagne – Website