McGill University and the Redpath Museum
Founded in 1821 on a royal charter from King George IV, McGill is today considered to be Canada's leading university. Its original, downtown campus located at the foot of Mont Royal is a thing of beauty, and among its Victorian-era buildings, you'll find the Redpath Museum of Natural History.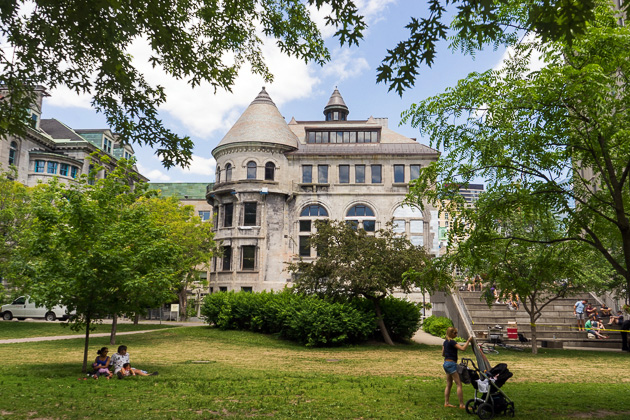 McGill University has an enrollment of nearly 40,000 students, roughly half of whom are from Quebec. Twelve Nobel laureates studied here, as well as three of Canada's prime ministers, including Justin Trudeau. Oh, and William Shatner. McGill is Canada's most prestigious place of higher learning, and its incoming students have the highest average test scores of any school in the country. The school is primarily English-speaking, although students are expected to have a working knowledge of French.
Living in Montreal, it's impossible to escape the shadow of McGill University. Its facilities are spread throughout the city, and its alumni seem to have their hands in everything. In most museums we visit, we read about discoveries made by McGill researchers, studies initiated by McGill teams, theories offered by McGill professors, etc. Habitat 67 was the master's thesis of McGill student Moshe Safdie. Arcade Fire met while studying at McGill. And the drunk kids shouting and laughing outside our apartment every Thursday night at 3am are almost certainly McGill undergrads — in addition to its sterling academic reputation, McGill is known as a party school.
Since we'd heard so much about it, we figured we should at least see the campus. Located between Sherbrooke Ave and Mont Royal, and bounded on the east and west by Rue University and Peel, McGill's main campus is gorgeous, with old limestone school buildings and small grassy parks where you'll almost always see students studying or taking naps. The Royal Victorian Hospital has recently moved to a more modern facility, but its former home, a Gothic building on the foot of Mont Royal, is now part of McGill.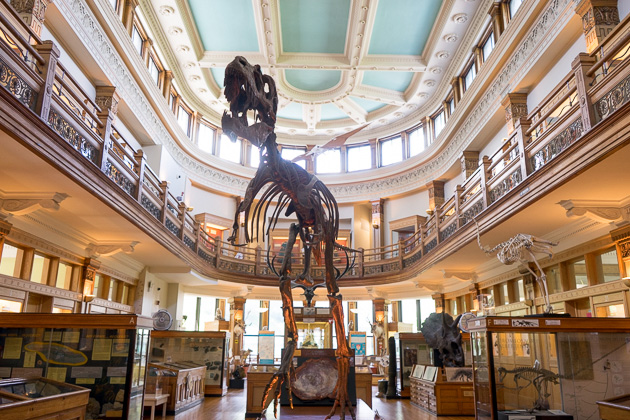 It'd be fun to explore all these old buildings, but we limited ourselves to one: the Redpath Museum of Natural History. This museum dates from 1882, and features exhibits that range from fossils and minerals to anthropological items from around the world. The centerpiece of the collection of the full skeleton of a Gorgosaurus. But the best part of the Redpath Museum is the atmosphere of the building in which it's housed. It looks exactly how you'd expect an "ancient university library" to look, with the scintillating layers of dust and mystery that go along with it. While examining the exhibits, I kept expecting some old professor to suddenly appear and slam shut one of the cabinets, admonishing me not to look inside. "You may examine any of the cabinets, but not this one!"
The Redpath Museum is free to visit, although they do suggest a small donation to keep the museum going. And obviously, the campus is free to visit as well. Both are well worth seeing during your time in Montreal.
Locations on our Map: McGill Campus Main Entrance | Redpath Museum