A small island found just off the foot of Montreal, Île Bizard is named after one of New France's original settlers, Jacques Bizard. The island has been largely spared from over-development, and a healthy percentage of it is today protected in the Bois-de-l'Île-Bizard Nature Park. We spent a beautiful summer day there, exploring the park's diverse ecosystems, which include swampland, plains and forest.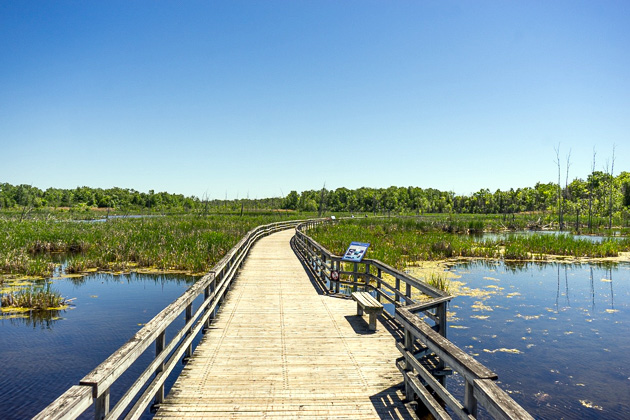 Montreal might be a big, dirty city, but you don't have to travel far to escape into nature. While we were walking through the woods of Île Bizard, it seemed surreal that just forty minutes ago, we had been moaning about the noise and construction in our neighborhood. Here, the only sounds we encountered were those of birds and bullfrogs.
The various trails in the Bois-de-l'Île-Bizard permit a hike of about two hours, though you can make this much shorter if you just stick to the main path. The crown jewel of the park is a gorgeous marshland, which a long wooden bridge will take you across. We paused here for a few minutes, remaining quiet to better appreciate the scene. The bullfrogs were putting on a concert, surrounding us with the strange music of their calls, like muted plucks on a slightly-flat guitar.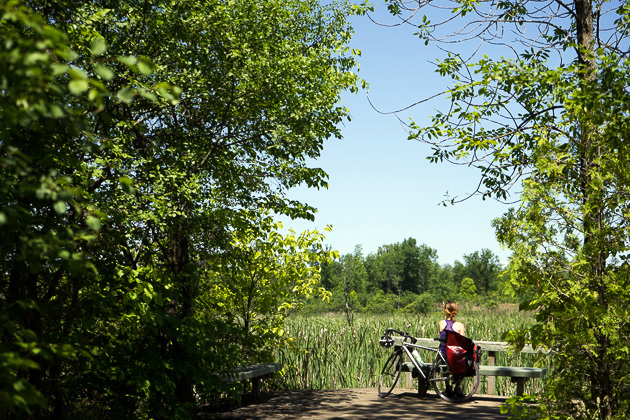 Past the marsh, the park remains just as peaceful, if somewhat less spectacular. I wasn't complaining though — after spending too much time in downtown Montreal, a quiet walk through the woods with sunlight filtering through the branches feels like a revelation. We continued along the path until reaching the northeastern point of the island, where the Prairies River meets Île Brigas and forms some minor rapids.
Although you can reach Île Bizard with public transportation, it's a lot easier to get here if you have a car. But as far as escapes from Montreal go, this is probably one of the closest and most beautiful options.
–Check for rental car prices in Montreal