Mont Royal's Lac aux Castors and Maison Smith
After visiting the Kondiaronk Belvedere and taking in the view of downtown Montreal, you can continue your exploration of the mountain by heading west toward the Lac aux Castors. On the way, you'll pass a sculpture park and the Maison Smith, which was built in 1858 and today is home to a small exhibition about the park.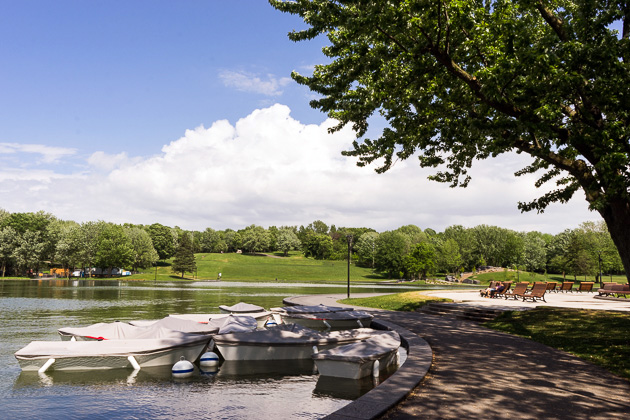 Because it's spread across the dips and ascents of a mountain, it's easy to forget that Mont Royal is also a carefully considered park. The design is the work of Connecticut-born Frederick Law Olmsted, who's most famous as the landscape architect of NYC's Central Park. He was brought to Montreal in 1874 to create plans for what would become this city's defining park.
Without changing the essential character of the hill, Olmsted created an intricate network of trails that would take visitors to all its corners. The Chemin Olmsted is the most significant of these paths, and leads from the monument of Sir George Etienne Cartier to Mont Royal's various summits, as well as the Kondiaronk Belvedere and the Maison Smith.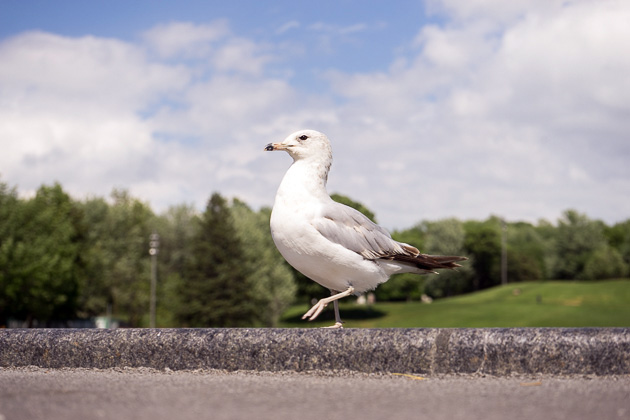 The Maison Smith is next to Mont Royal's largest parking lot, and serves as the unofficial entrance to the park. Inside, you'll find a cafe and an exhibition about the flora and fauna of the park, as well as some archaeological artifacts which have been unearthed here. The exhibition is small and free, so even if you just have a couple minutes, it's worth popping in.
From here, it's a short walk along the Chemin Olmsted to the Lac aux Castors. On the way, you'll find a sloping field studded with strange gray monuments. These are the remains of the International Sculpture Symposium, which in 1964 invited twelve artists from around the world. Over fifty years later, most of the works are still visible… how impressive you find them depends on how generous you're feeling.
Past the sculptures, you'll see the Lac aux Castors, or "Beaver Lake." This is as good a place as any to finish a day on Mont Royal. In the summer, you can rent paddle boats to take out onto the lake, which was created in 1938. And in the winter, you can ice skate. There's a simple cafe here, where you can stretch out your legs, and appreciate a final view of one of Montreal's most relaxing spots.
Locations on our Map: Maison Smith | Lac aux Castors