St. Henri – A Gentrification in Progress
We showed up in Saint-Henri with the intention of visiting the Emile Berliner Musée des Ondes, a museum dedicated to the world of audio. But since the museum was closed, we instead spent the day wandering around the neighborhood. Working-class Saint-Henri hasn't traditionally been the kind of place which draws tourists, but it's recently come into fashion, and gentrification is well underway.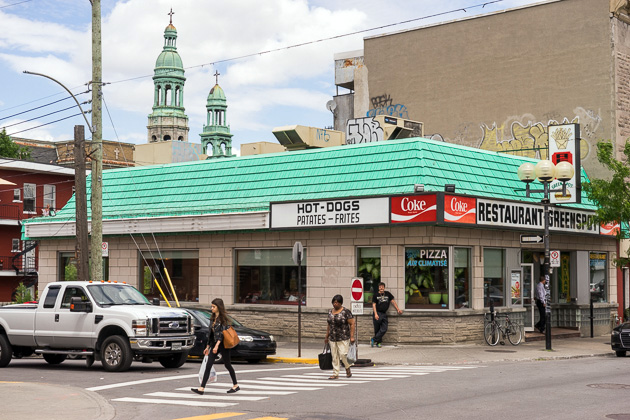 It's the gypsy curse of the hipster. You want to live in the coolest neighborhood, but once too many other hipsters live there, it becomes uncool and you're forced to move on. We witnessed this phenomenon during the five years we lived in Berlin, where the "hip" neighborhood shifted on an almost annual basis. Apparently, it happens in Montreal, too. Mile End had long been this city's capital of cool, but when we visited, it felt as though its heyday was in the past.
The torch might have been passed to Saint-Henri. Bordering the Lachine Canal on the southwestern side of the city, this is a formerly industrial zone. There's an abundance of empty warehouses and lofts, which have helped draw artists looking for ample space and low rent. The Musée des Ondes is found in one such building, the former RCA factory, and although the museum was closed, we found the huge property buzzing with busy twenty-somethings.
Where artists go, others follow, and Saint-Henri was already an attractive choice for living in Montreal. It's well-connected to the city center by metro, and you can take a bike right along the Lachine Canal to the Old Port. There's the Atwater Market, the handsome Parc Sir-George-Étienne-Cartier, and a seemingly endless supply of small apartment buildings in the classic Montreal style.
We started our tour of Saint-Henri in the northwest, which is the more industrial (or post-industrial) section of the neighborhood, and then walked back toward the city along quiet residential streets and the bustling Rue de Notre Dame. This is Saint-Henri's "Main Street," and offers an intriguing study in contrasts. There are old depanneurs (convenience stores) with faded signs hanging in dirty windows, cutesy cafes specializing in miniature cakes, no-frills eateries serving up cheap and unpretentious meals, heavy metal bars, and upscale restaurants which require reservations and heavy wallets.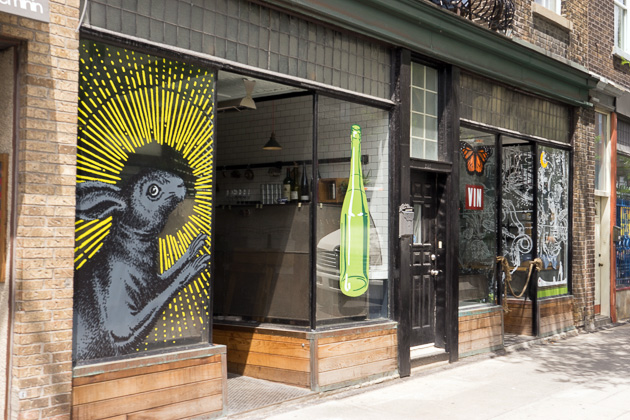 On a recommendation, we returned that same night to check out a popular wine bar called Le Vin Papillon. But we had underestimated how popular this place would be. Reservations aren't accepted, and the line was out the door. On a Tuesday night! When the waiter told us it'd be "at least an hour," we gave up and went to a hip-looking taco place across the street. Here, I'm not sure what was more depressing: the minuscule size of the tacos or the monumental size of the bill.
I can just imagine long-time Saint-Henri residents walking past this expensive taco restaurant with its bite-size meals, and shaking their heads before returning to the nearby burger joint they've been eating at for decades. There's a palpable sense of Saint-Henri trying to reconcile its working-class past with its new focus on wealthy young professionals. That's a tricky balancing act, and I'm not sure it's ultimately possible… but right now Saint-Henri is a fascinating place to visit. If we were planning to move permanently to Montreal, this neighborhood would be toward the top of our list. You can't beat gentrification, so you might as well join it.