Situated around Boulevard Saint Laurent, immediately south of Little Italy, Mile End has become synonymous with Montreal's indie music scene. And bagels. And hipsters. We spent a sunny day exploring the streets of one of the city's most iconic neighborhoods.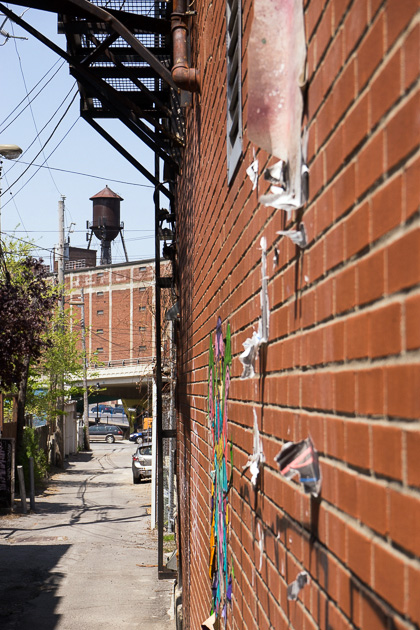 No miles actually end in Mile End; the name is thought to have been inspired by London's Mile End neighborhood, in the same way Montreal's Quartier Latin is a nod to Paris. For much of its history, Mile End was an independent town known as Saint-Louis; it didn't change its name officially until 1982. The stately former town hall of Saint-Louis, built in 1902, is today Montreal's most attractive fire station.
Years ago, Mile End became the unofficial capital of Montreal's burgeoning indie music scene, when bands like Arcade Fire and Godspeed You! Black Emperor started to take off. Musicians flooded in, setting up indie labels, performing at local clubs like the Casa del Popolo and la Sala Rossa, and recording at places such as the "thee mighty hotel2tango." A glance at the list of the artists who've worked at this legendary Mile End studio reads like a who's-who of indie music.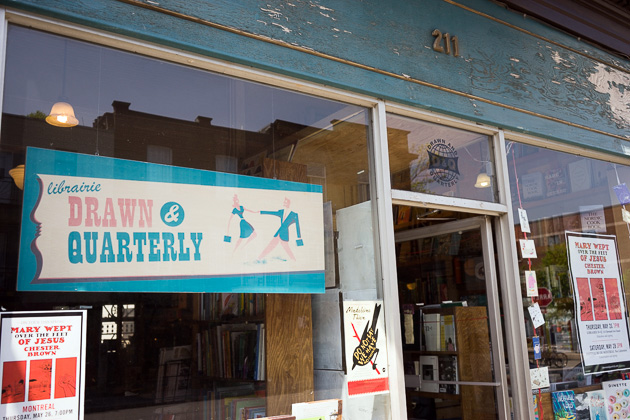 Rue Bernard is the most iconic street for the young Montreal hipster, and is where you'll find some of the neighborhood's most popular shops, such as Drawn and Quarterly (which publishes as well as as sells comics and books), the artistic mecca of Le Dépanneur Café (which has live jazz all day), and a number of cool stores selling vintage clothes and second-hand vinyl.
What's the opposite of a hipster? A Hasidic Jew? That's not a bad guess. Somehow, this is the second-most prominent group in Mile End… and I doubt many of them are Arcade Fire fans. As we walked along Rue Hutchinson, on the west of Mile End, almost every single guy we passed was sporting a long black gown and curly black sideburns. After WWII, both Mile End and neighboring Outremont became a place of major resettlement for ultra-conservative Jews.
We had already fallen in love with one of Mile End's Jewish establishments: St-Viateur Bagels. And today, we decided to check out Fairmount Bagels, their long-time competitor. Since the 1950s, there's been a battle for dominance between the two shops, and Montrealers are strictly loyal to one or the other. We've been warned not to wade into the war between them, since choosing a favorite will alienate approximately half the city… but we like to live dangerously. In our view, St-Viateur is better. There, we said it!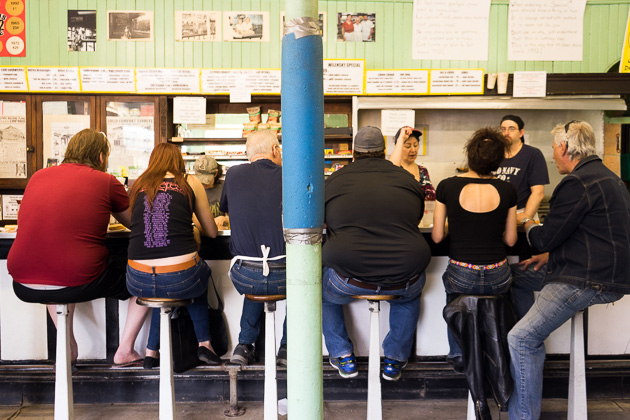 Near Fairmount Bagels, we found Wilenksy's Light Lunch. Founded in 1932 by Moe Wilensky, this tiny shop has become an institution with its simple sandwiches, pickles and soda frappes. It's a weird place; just a large empty room with a few stools around the bar. Our Wilensky Specials (salami, bologna and mustard on a toasted bun) arrived fifteen seconds after we had ordered them, and were gone fifteen seconds after that. Luckily, the prices are low enough that a second round wasn't an outrageous idea.
After lunch, we stood in line for ice cream at the ridiculously popular Kem Coba. Normally, I will avoid long lines for things like ice cream; I hate it when specific shops with hipster names manage to become trendy. There's a million other ice cream shops in Montreal, but no, everyone has to go to Kem Coba, because it's Kem Coba, man! It's the only place I ever eat ice cream, man! But we were still hungry after our Wilensky Light Lunch, so decided to see what the fuss was about. The ice cream was, of course, really good. Not worth the wait, certainly, but if the line happens to be small when you walk by, go for it. (Kem Coba's Line is so ridiculous, that it has its own Twitter account.)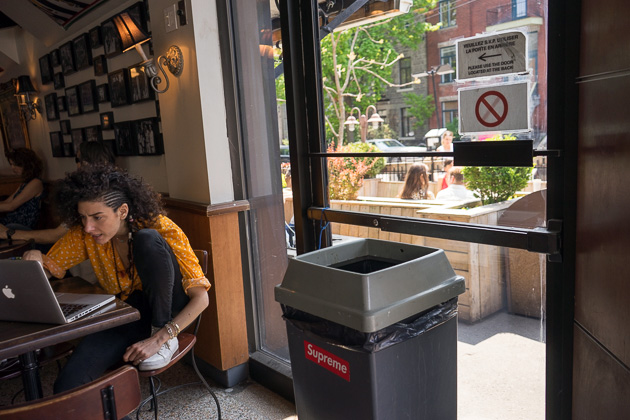 From here, it was just a few minutes to the next stupidly popular Mile End institution: Café Olimpico. Crowned the "best cafe in the city" by a few publications, this is the neighborhood's top spot to see and be seen, and has welcomed stars like Jennifer Lawrence and Will Ferrell. But one glance inside was enough for us. Here was a line in which we wouldn't be waiting. Anyway, how is it even possible to proclaim which is the "best cafe" in a city the size of Montreal?
In truth, it feels like Mile End's coolest days are behind it. We saw hipsters, of course, but not as many as I had expected. And while there were a lot of great shops on Rue Bernard, the street didn't have the energy I'd read so much about. But then, hip scenes are fickle, and I could just imagine some snob snuffing that "Mile End is so 2008." Overall, though, we enjoyed our time here. With so many unique stores and restaurants, it would have been hard not to.
Locations on our Map: Drawn and Quarterly | Le Dépanneur Café | Fairmount Bagels | Wilensky Light Lunch | Kem Coba | Café Olimpico
Websites: Drawn and Quarterly | Le Dépanneur Café | Fairmount Bagel | Wilensky's Light Lunch | Kem Coba | Café Olimpico