The St-Ambroise Montreal Fringe Festival
An uncensored celebration of independent theater at its most creative, the St-Ambroise Fringe Festival entertains Montreal with over 800 performances spread across twenty days. We were in town during the festival's 26th year of existence, and couldn't resist taking in a show… the only problem was deciding which to see.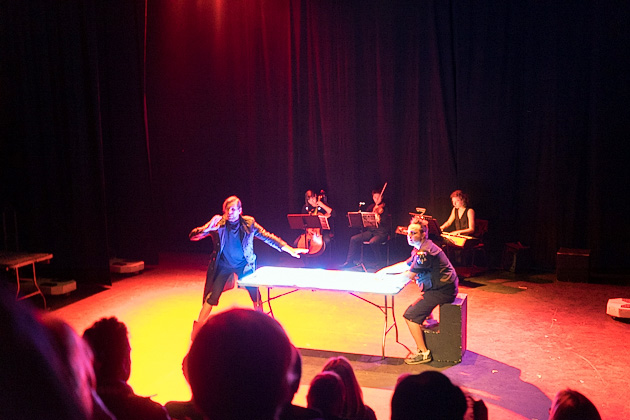 Fringe Festivals came into being in Edinburgh during the 1940s, when independent theater companies began performing without sanction on the "fringe" of the city's popular International Festival. The practice caught on among companies who'd been unable to gain a foothold in established events, and soon "Fringe Festivals" had become a worldwide phenomenon.
As the fringe scene matured, some ground rules eventually became necessary, and today Canada has even established an "Association of Fringe Festivals." Such an organization might seem antithetical to a movement born to subvert the establishment, but their rules are hard to argue with: (1) participants are selected in a non-juried manner, so every hopeful has an equal chance of performing, (2) 100% of box office goes to the artists, (3) festivals may not censor or control any content, (4) anyone and everyone must be allowed the opportunity to participate.
Given these all-inclusive ground rules, we expected Montreal's Fringe Festival to be comprised of a bunch of crazies standing on boxes and screaming poetry about their morning bowel movements. So it came as a surprise when, after going through the schedule, I had circled about two dozen shows that sounded interesting. These were comedies, one-person cabarets, drag-shows, dramas, and bizarre events which defied any easy categorization. I kind of wanted to see them all.
In the end, we chose "Captain Aurora II: A Superhero Musical Sequel," performed by the Kaleidoscope Theater Company in the Chapelle Theater on Rue Saint Dominique. The original Captain Aurora was one of the biggest hits of last year's festival, so we felt confident about our decision. And it was just as fun as we'd hoped.
As a general rule of "Fringe" shows, production costs are kept to a bare minimum, venues are small, and running time is limited, so it's not as though Captain Aurora II was a big, Broadway-style musical. It felt more like a high-school production… that is, one presented by a high-school filled with insanely talented people. The plot, about the struggle between an evil alien race and Captain Aurora's Sky Guard, was both ridiculous and hilarious. The props and costumes were budget-level, but cleverly designed, and the singing, music and acting were top-notch.
And at just $12, the tickets are completely affordable. As we were leaving the Chapelle, other artists from Fringe were promoting their shows, and we grabbed a few fliers. Montreal seems to have a ridiculous number of talented artists, and the Fringe Festival gives them all a chance to be heard.
Location of the Chapelle Theater (just one of the festival's dozens of venues)
St-Ambroise Montreal Fringe Festival – Website