Godspeed You, Montreal Music Scene
As we were walking through the Underground City, near the Place des Arts, I spied a poster out of the corner of my eye. Godspeed You! Black Emperor would be playing in a couple days. They've long been one of my favorite bands, and I had completely forgotten they were from Montreal. Before Jürgen had a chance to protest, I raced over to the counter and scored us a couple tickets.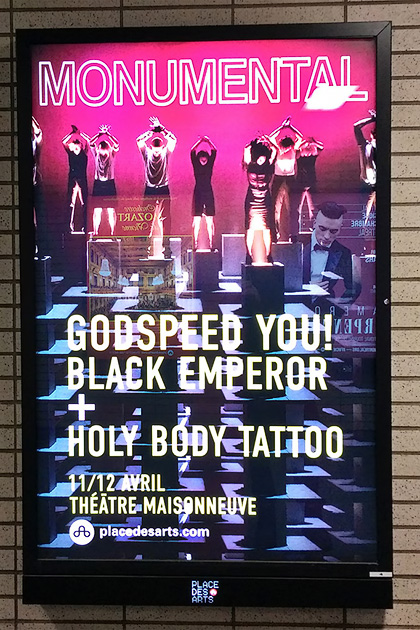 For years, I've wanted to hear GY!BE's soaring, orchestral music in a live setting and the show, held in the Théâtre Maisonneuve, was as great as I had hoped it would be. The band teamed up with award-winning local dance troupe Holy Body Tattoo for a performance called Monumental. It was an inspired combo: GY!BE's droning and emotionally-exhausting music paired with an intense, bizarre and brutally physical dance, which seemed to be about the insecurities and frustrations of modern life.
Montreal is famous for its indie music, but I hadn't realized just how big the scene is. A couple days after the GY!BE show, I looked up "Bands from Montreal," and was stunned by the list. It was like scrolling through my music library… a shocking percentage of bands I listen to come from this city. There's Majical Cloudz, Ought, Patrick Watson and Tim Hecker. Remember the Unicorns and the Stills? And more recent acts include Half Moon Run, oddball Max DeMarco and Grimes, whose Art Angels was one of 2015's best albums.
And Wolf Parade! They're a band I've been deeply in love with for a decade, and who I've followed through all their various side projects: Handsome Furs, Divine Fits, Sunset Rubdown and Moonface. Also, did you know Leonard Cohen was from Montreal? I didn't! But this godfather of indie rock was born in Westmount, an affluent English-speaking neighborhood of the city.
Haha, I made it the fifth paragraph of an article about Montreal's music scene, and still haven't mentioned Arcade Fire. Easily the city's most successful musical export, Arcade Fire have released one critically-acclaimed album after another, and have become one of the world's most popular (and best) rock bands.
What is it about this city that produces such great music? Our theory has to do with the long winters. It's an idea we first developed while in Iceland, another place with an outsized music scene. When you're looking forward to long months of uninterrupted cold and snow, there's nothing better to do than get together in a garage and create something.
Here's a collection of videos featuring some of our favorite Montreal artists, and some we're looking forward to discovering. Have we overlooked any of your favorites? What about some of the city's French acts? As English-speakers, we're naturally more familiar with the English-speaking bands, but there's also a lot of great Montreal music being made in French.