A vast network of tunnels leading to practically all of downtown Montreal's shopping malls, food courts, office buildings, metro stations, museums and theaters, the so-called Underground City enables people to get around without ever having to step foot outside. And in this city, that can often be a real life-saver.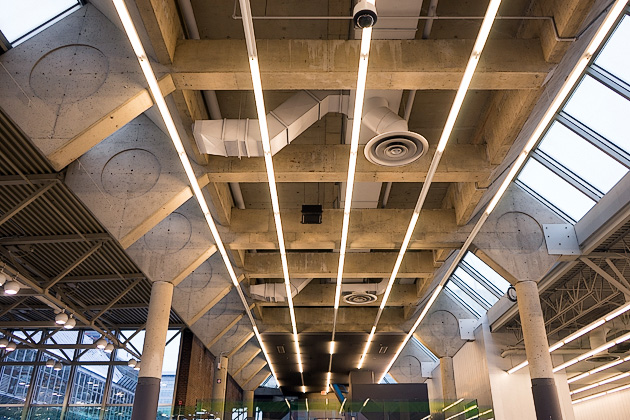 When we arrived in early April, we expected to occasionally make use of the Underground City. But we hadn't expected to depend upon it. On our second full day in Montreal, the city experienced a vicious cold snap, which sent temperatures plummeting below freezing and dumped inches of snow onto the streets.
Now, Jürgen and I might be from northern climes (he's from Germany, and I grew up in northern Minnesota) but there's a reason we chose Valencia, Spain as our permanent base. And that reason is: we don't like the cold. The last time we saw snow was four years ago, and it's not some kind of wild coincidence. We arrange things like that! So when this April storm hit, it was a surprise, and not one we appreciated. We whimpered and complained like children. We bundled up like Arctic explorers. And whenever circumstances forced us to step outside, we scampered like rats toward the nearest entrance of the Underground City.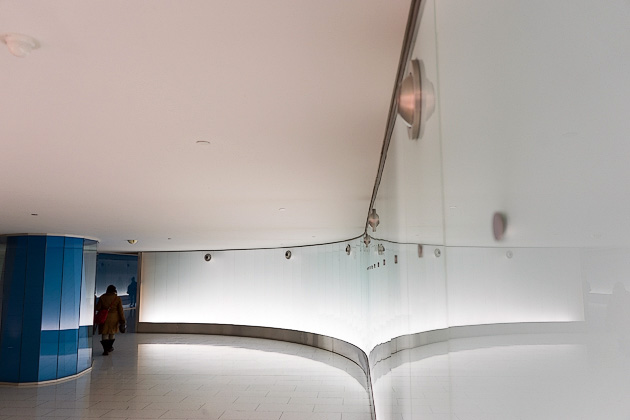 "Underground City" is certainly an evocative name, bringing to mind a sort of subterranean, alternative Montreal, populated perhaps by near-sighted mole-people. But the reality isn't that exotic. Montrealers are often amused to learn that their elaborate maze of tunnels has become a bonafide tourist attraction… because that's really all the Underground City is: tunnels which lead from one set of buildings to the next.
To long-time residents, these passageways are purely utilitarian; part of their boring, daily commute. But to newcomers like us, the Underground City is much more interesting. Many of the tunnels are decorated with art. There's odd architecture, and an endless array of shops. The interior courtyards to which they lead are often beautiful. It's fun to emerge from a random passageway into surroundings which are entirely new and unexpected. And the people-watching is great, especially when cold weather drives the city's numerous crazies underground.
During the snowstorm, we dedicated an entire afternoon to the Underground City. It went something like this: Oof, it's cold out there. Which way should we go? Check out that fountain! And there's a piece of the Berlin Wall. And an ice-skating rink. This lobby is sweet… are we in a hotel? Can we go up these stairs? Okay, Mr. Security Guy, we get it; please calm down. The Tunnel Espresso Bar must be good, but that line is crazy. [Gasp] An entire store dedicated to board games… and there's a comics shop! I'm gonna need an hour, Jürgen, go away. This tunnel leads from the Eaton Mall to the Cours Mont-Royal Mall. Malls interconnected to other malls: a stroke of evil genius. Oh, that poor Chinese woman is so drunk she can't stand, should we help her? (No, Jürgen, I was joking!) How did we end up at a Barbie exhibition? Wait, I don't believe it. Look at that poster: Godspeed You Black Emperor are playing next week. I forgot they were from Montreal. The booth is right there, I'm buying tickets. No, I shouldn't, we're trying to save money. Arrgh, but I have to!!!!!
If that isn't among our most action-packed days in Montreal, I'll be surprised.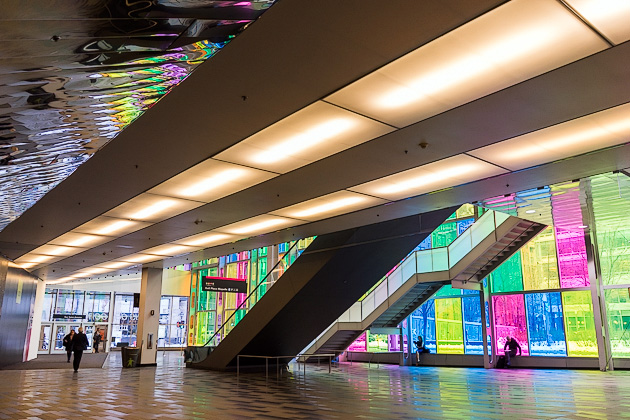 We made an effort, but it's impossible to see all of the Underground City in one day. And the truth is, you wouldn't really want to. Although we had fun during our excursion, much it was boring… mall after mall, Starbucks after Starbucks. (At least there were plenty of places to re-up on caffeine.) And while some tunnels have been beautified with art, many others are just boring old tunnels. Still, the Underground City is an impressive feat of urban engineering, which deserves to be seen. It comprises over twenty miles worth of passageways and, during winter, is used daily by over half a million people.
It seems unlikely that you wouldn't visit the Underground City at least once during your visit to Montreal, even if you don't realize it. But if the weather's bad, it's worth making an effort. Grab a map, plot a course, and dive underground to see a totally different side of Montreal.
–Car Rental Prices For Montreal