It doesn't matter which angle you're admiring it from, Quebec City is stunning. We had a chance to see two of the best views of the city: from the water, during a short ferry trip across the St. Lawrence River, and from the sky, in the 31st-floor observatory of the city's tallest building.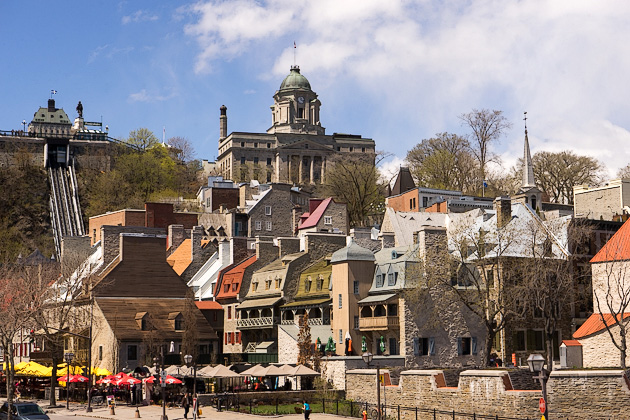 There are a number of excursions you can make on the Saint Lawrence River, including a trip to the Montmorency Falls. But if you simply want a view of the old town from the water, the cheapest and quickest option by far is a round-trip ticket on the ferry that runs between Quebec and the town of Lévis, on the other side of the river. It's just a few bucks each way, and the ferry runs constantly.
From the terminal, you can't really see much of Quebec City, but that changes almost immediately as the boat pulls into the water. The buildings of Old Quebec are stacked along the promontory of Cape Diamond, so the perspectives shift dramatically as the boat gets farther from shore. It's like watching a life-size diorama unfold, until you've reached Lévis and can see the entire thing. We rode the ferry during the morning, but it must be even more spectacular in the evening, when the sun is setting behind the city.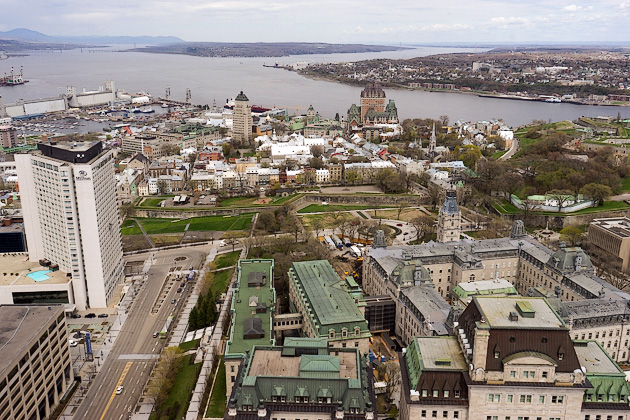 For a totally different perspective over Quebec City, head through the Old Town and past the impressive Hôtel du Parlement, built in 1877, until you've reached the Observatoire de la Capitale. At 221 meters in height, this government building is the tallest in the city, and has a 360° panoramic view on its top floor.
From so high up, you get a real sense for the layout of Quebec City. You'll see how the Saint Lawrence River narrows at Cape Diamond, and be able to better appreciate why Jacques Cartier chose this position for his new city. You also can see the Appalachians to the southeast, and the plains out to the north, past which is a sparsely populated region of mountains and lakes.
Locations on our Map: Ferry Terminal | Observatoire de la Capitale