Located just north of Quebec City, the Chute-Montmorency provides a perfect half-day excursion. This waterfall has a height of 83 meters, taller than Niagara. And by following an exciting trail which includes a suspension bridge and a gondola, you're able to admire it from every conceivable angle.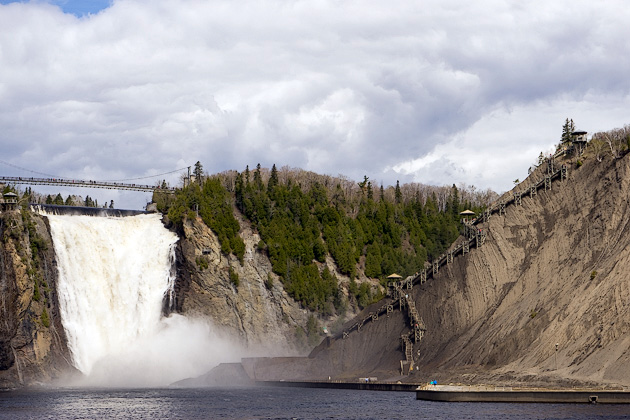 If you have a car, the drive from downtown Quebec to the Parc de la Chute-Montmorency is just twenty minutes. But even if you don't, you can still easily reach the waterfall; Bus #800 takes a lot longer, but gets you there without any hassle. We bought tickets at a convenience store, and an hour later were standing in front of the falls.
Montmorency isn't the largest waterfall we've ever visited, but its height and power are impressive, and the trail which circles it has been thoughtfully developed. We started our visit by crossing a suspension bridge which hangs just over the initial drop. In the summer, you also have the opportunity to fly over the falls on a zipline.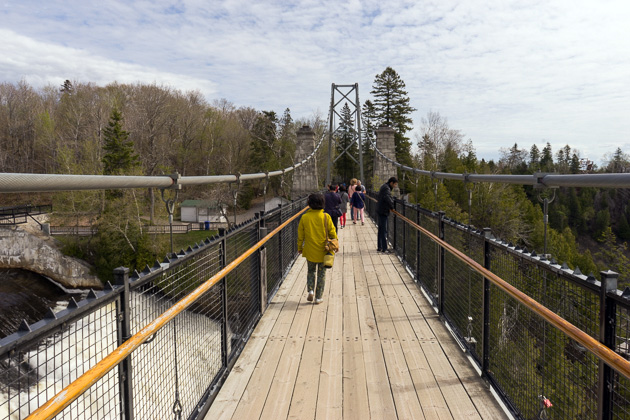 On the other side of the bridge, we followed a well-worn path that leads down the side of the cliff, providing views of Montmorency with Quebec City prominent in the background. And at the base of the falls, you'll find a gondola which will whisk you back up to the top, sparing you a serious amount of exercise. Walking fast, the whole loop could be completed in 30 minutes, but you're likely to need a lot longer than that. This is the kind of nature you'll want to take your time with.
Parc de la Chute-Montmorency – Website
–Rent A Car For Your Quebec City Trip Here