For 91 Days,
we lived in the French-Canadian metropolis of Montreal, exploring its famous culture, indulging in its fine cuisine (and finer
poutine
), making French-speaking friends, visiting award-winning museums, attending summertime festivals… and discovering exactly what makes this city such a special place. Whether you're planning your own journey to Montreal, or are just interested in learning more about this amazing city, our articles and photographs should help you out. Start
at the beginning
of our adventures, visit our
comprehensive index
to find something specific, or choose one of the articles selected at random, below: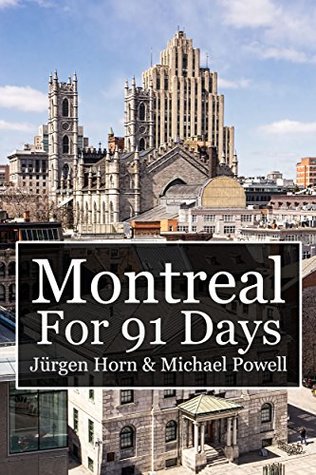 After three months spent living in the Canadian metropolis of Montreal, Jürgen and I came away with some unforgettable memories. We've now collected our experiences into an e-book, with all of our articles and over 200 full-color photographs.
Like most cities, Montreal can be ugly and noisy, with its constant construction, heavy traffic, plain gray skyscrapers, chain restaurants, and cloudy days. But it can also be surprisingly beautiful… and nowhere is that more apparent than around Saint-Louis Square, in the neighborhood of the Plateau.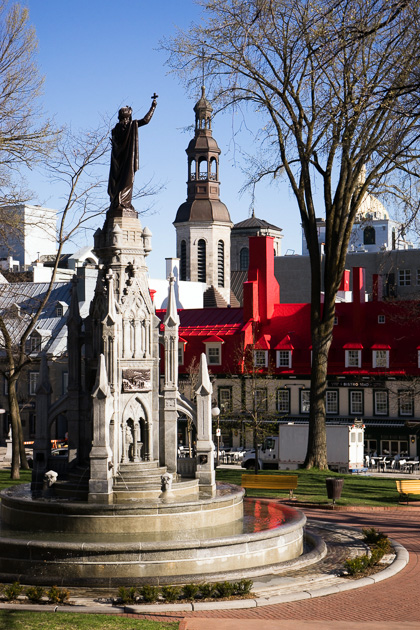 Protected by its original fortifications, Old Quebec has survived the centuries in a state of picture-perfect preservation. In 1985, UNESCO declared the entire historic district to be a World Heritage Site. This section of town is the main reason Quebec is able to lure so many visitors, and it certainly doesn't disappoint.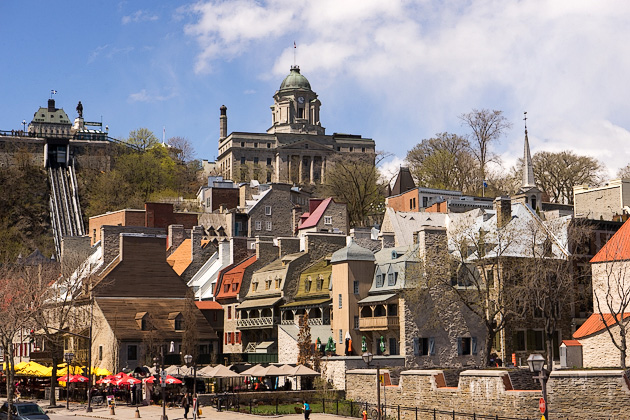 It doesn't matter which angle you're admiring it from, Quebec City is stunning. We had a chance to see two of the best views of the city: from the water, during a short ferry trip across the St. Lawrence River, and from the sky, in the 31st-floor observatory of the city's tallest building.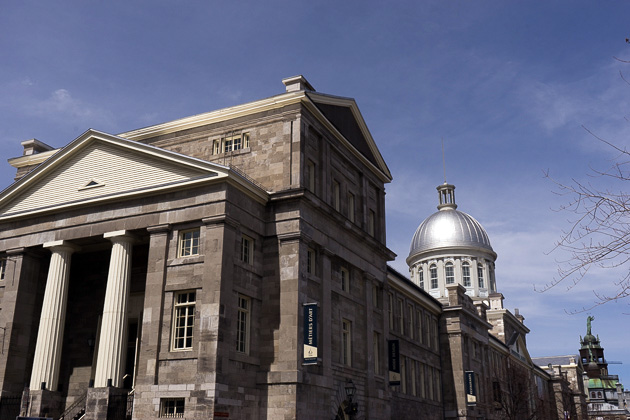 Constructed in 1844, the Bonsecours Market borders the old port of Montreal and the Notre Dame de Bon Secours church for which it's named. For most of its life, Marché Bonsecours was the city's main produce market. Today, you'll find clothing stores, restaurants and craft shops inside, as well as a textile museum.
An artificial island created for the 1967 World Expo, the Île Notre-Dame is found in the middle of the Saint Lawrence River. The Notre-Dame and its sister island, the Île Sainte-Hélène, together make up the Parc Jean-Drapeau, which is among Montreal's most popular summertime hangout areas.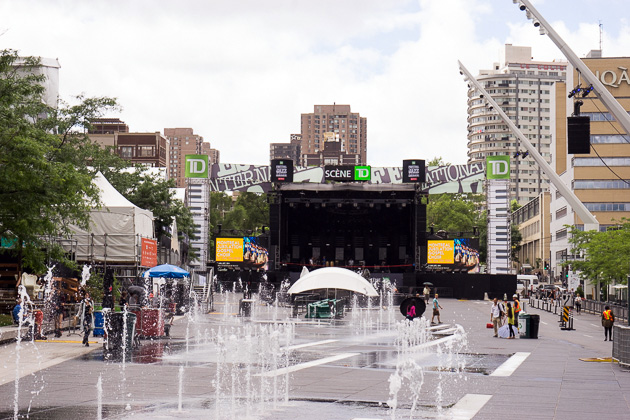 The Montreal International Jazz Festival invites over 3000 musicians together from dozens of countries, for well over a thousand performances, most of which are free. We wouldn't have the chance to see much of the festival, as it began during our final night in Montreal. But we did get a taste.